St Jude's three schools are lively places. There is always laughter ringing out across the playground, or a song wafting down from a music room, or an exciting game of football being played on the sports fields, with accompanying shouts and blasts from a whistle.
To take a step into one of our three libraries is to take a pause from this hustle and bustle and enter into a calm, quiet place of focus. Students take advantage of this atmosphere for their studies, to browse the shelves or to get a recommendation from one of our trained library staff.
Mr Forehead started at St Jude's 13 years ago as a Library Guard. After a diploma and then a Bachelor of Teaching, he became our Primary Library Teacher. He's never met another Tanzanian with the same job. "It is not a common role," he says. "I teach students how to utilise the library, how to find books, how to borrow and how to take care of the books."
When students begin at St Jude's in Standard 1 or 2 (the first years of primary school), it's usually their first time in a library. "When they first arrive, they are so excited about the library," smiles Mr Forehead.
"Reading definitely helps them to improve their English," he explains. "You'll see when they start, you give them a book and they'll just know one or two words, and then over time as we read more and more it just improves so much."
Miss Sylvia is the Library Assistant at St Jude's Girls' Secondary School library. She takes a keen interest in her students to help them thrive in their first four years of secondary school.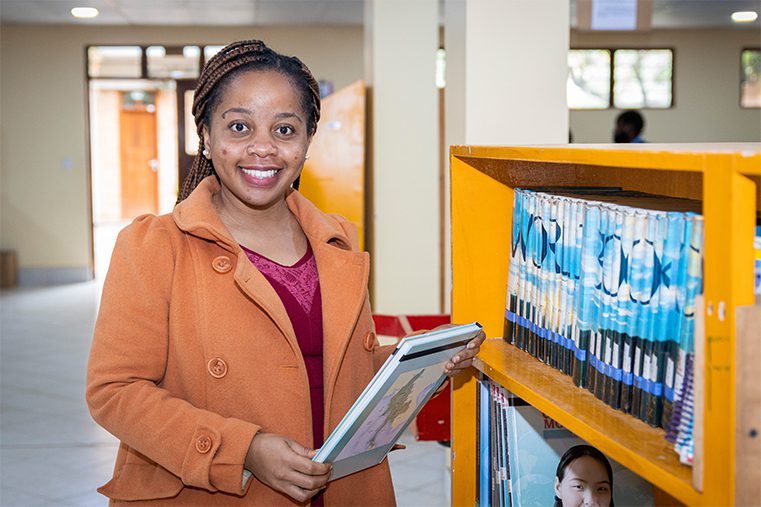 "My students are big fans of novels. The most popular books are the Twilight books by Stephanie Myer and Mortal Instruments by Cassandra Clare," she smiles. But Miss Sylvia isn't content to leave her students to read only the most popular books. "I get to know students and staff members, so when they visit I can tell them about the certain things they're interested in. So, students start to think, 'Oh, Miss Sylvia is really interested in me,' and it makes them feel important, that I care about them."
In the primary library, Mr Forehead gets creative to encourage reading. "The students have reading competitions and then they make presentations about what they have read. With the young ones especially, I give them stickers when they finish a book, which gives them a lot of motivation," he says.
Mr Forehead's enthusiasm for reading is particularly remarkable given that his own school did not have a library. "We had a few books in boxes which were kept in the headmaster's office and if you wanted to borrow a book, you would have to ask the headmaster. A year might go by without anyone borrowing the books and then you would find they had been spoiled," he recalls.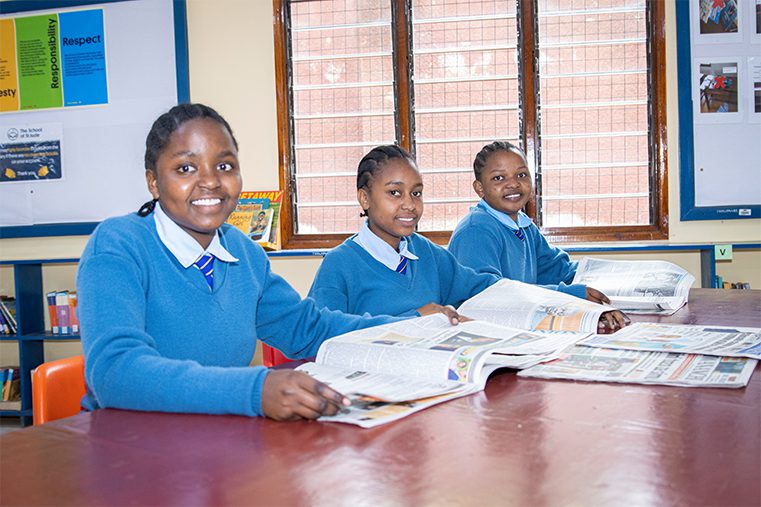 For the last two years, SCIS (Schools Catalogue Information Service) has supported St Jude's by donating their annual licensing fee and it's made a huge difference in our libraries. SCIS creates easy-to-download catalogue records for school libraries and is used in libraries all over the world.
"With SCIS, cataloguing is so much faster," enthuses Miss Sylvia. "All the information about the books is there. You can just click, download, and it's all there and all correct. It has saved so much time."
SCIS also assisted library staff with a series of webinars in 2020 to help make the most of everything SCIS has to offer. In a country without a huge network of libraries, St Jude's is grateful to have a link to experts in Australia for inspiration and learning.
St Jude's students are such ravenous readers that our librarians are regularly faced with a familiar challenge. "The biggest challenge is having enough books. The students love to read, and they've almost read all the books," says Mr Forehead.
Over the years, St Jude's libraries have been stocked with books donated by generous visitors and international supporters who have sent books to Tanzania. The school prepares a 'wishlist' of requested books each year so that visitors who wish to donate books can bring those which will be most useful.
Unfortunately, COVID-19 has reduced the school's annual international visitors from around 1,100 to almost zero. And no visitors means no new books. As the COVID-19 pandemic recedes, St Jude's hopes to add new stock to its libraries.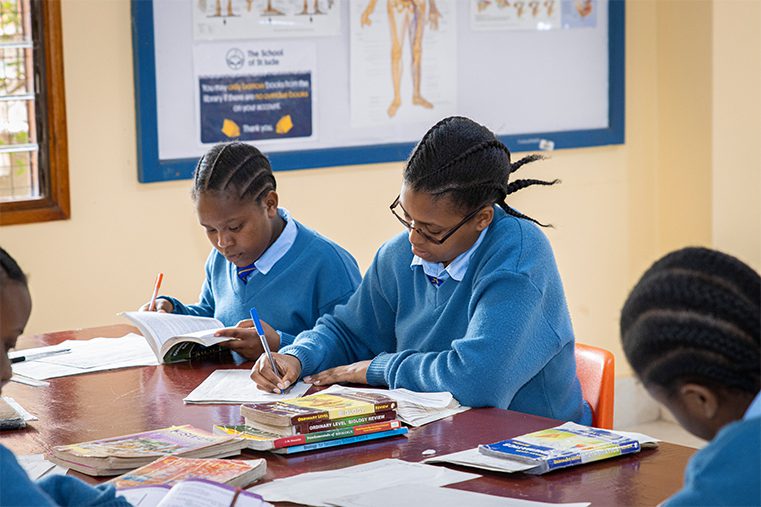 Even with the challenges they face, St Jude's libraries have an important role at the heart of each school. They're a place for students to discover new worlds, to catch up on the news and to study, uninterrupted. Unlike the majority of Tanzanian students, who are not afforded the advantage of a school library, St Jude's students can enjoy all of the benefits a library offers, thanks to supporters from all around the world.
If you would like to donate books to St Jude's, please contact us to find out what books would best suit our needs. We can arrange for staff or visitors to bring them to Tanzania. Or, you could even visit yourself! We would love to welcome any experienced librarians for short-term volunteer opportunities in our libraries. Please contact info@schoolofstjude.co.tz
Replies