The path to The School of St Jude has been tougher than most for new Form 1 student, Edson.
Born with 'knock-knees', his legs have grown angled inwards and the teenager is in pain with each step he takes.
The spirited student refuses to let his limitations define him. With sheer determination, Edson trekked two hours from his home in the Maasai tribe heartland, Nadosoito, to his under-resourced government primary school for seven years.
Whilst he was often late, unable to walk at the pace of his classmates, Edson never missed a day. As the oldest son he also herded cows after school to support his family.
Edson recalls being labeled a "hopeless cause" by many but he was quietly working towards a better life.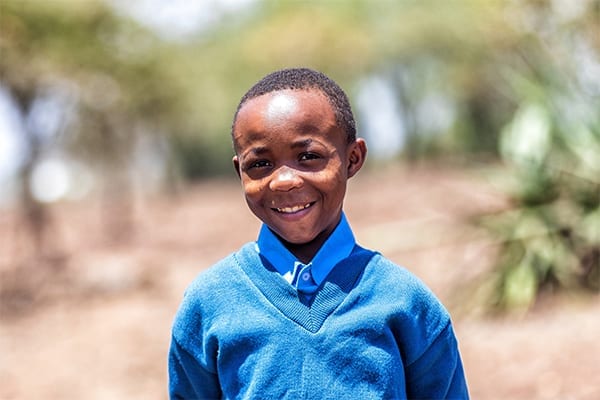 "A letter was bought to my primary school promoting the selection day at The School of Jude and this became my motivation. The life for my family is very hard here because there is hardly any water. I want to change this," Edson explains.
As Edson's family continued to struggle without water, their supply diminishing at the distant fill up taps as the borehole dried up, Edson improved his grades to a standard that saw him pass the St Jude's Form 1 entrance exam with flying colours.
Before he knew it, St Jude's bright yellow bus arrived at their traditional mud-hut home, one hour south of central Arusha and he was set for the ride of his life.
Recalling that day, Edson's mother, Helena, becomes emotional, hugging her son tight as he rejoined his family during the midterm break.
"Edson was an obedient child; he did not used to talk much and behaved well. He loved to go to school despite having problems with his legs. I feel so encouraged and proud now he is at St Jude's. He has told me how the school is providing him with a good place to sleep, eat and study. It means a lot to us because he will help to eradicate the poverty around us here."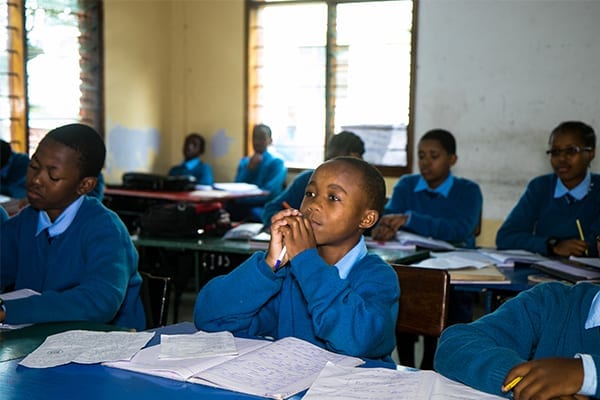 Reaching secondary school is an achievement in itself for Edson and his fellow Form 1 classmates who joined St Jude's from government schools in January. It is estimated that only 30% of secondary school aged Tanzanians are in education. This statistic is reduced even further in remote Maasai areas, but Edson is part of changing that trend and inspiring others in his community to change it too.
Edson's teachers say he's already thriving in his favourite subject, English, and has even started to teach his brothers and sisters the language. In this way the whole family can benefit from the education Edson is receiving, providing opportunities for them beyond their small village.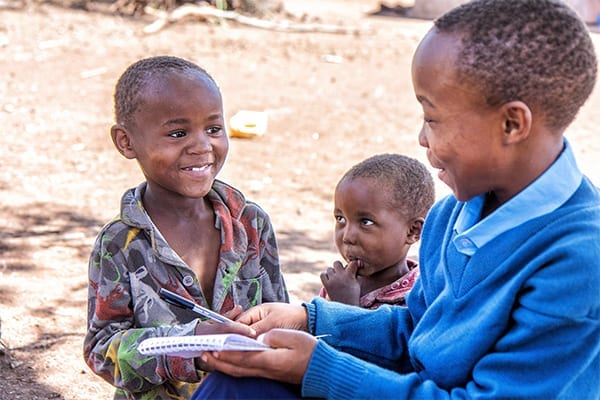 "I love The School of St Jude because they have a lot of teachers and a big library. I am now sharing what I am learning with my family and tribe,' Edson proudly shares.
It's truly been a life-changing year for Edson. Not only has he secured his place at St Jude's, the school's welfare team has also reached out to doctors at a nearby medical charity, who have agreed to perform an operation to help correct his painful condition.
"I am not scared of the operation as I want my legs to be straight," Edson announced with that same determination crossing his face once more. While in his mother's eyes there is a sense of relief. "We went to the local hospital and were given tablets as treatment but they never worked and I didn't have the money to take him to the special doctor that they told us to see. I am so thankful the school is now helping us find treatment," Helena says as tears start to well in her eyes again.
The post-operation recovery is expected to be six weeks of bedrest but Edson knows this is just a small hurdle in achieving his ultimate goal.
"I see myself as an electrical engineer so I can bring electricity to our village, either that or a teacher, like my mother wanted to be," Edson quietly shares.
A dream that with his tenacious attitude, big heart and bright mind, he can certainly achieve.
The path to his chosen profession is a lot brighter now for Edson, as is the outlook for his whole family, thanks to The School of St Jude, fittingly named after the Saint of hopeless causes.
A label no one will ever call Edson again.
Edson's academic scholarship, like a number of our new students, is not yet sponsored. His place at St Jude's is covered by general donations. Sponsor or donate today to see the change in the lives of students like Edson when they benefit from a free, high-quality education.
Replies