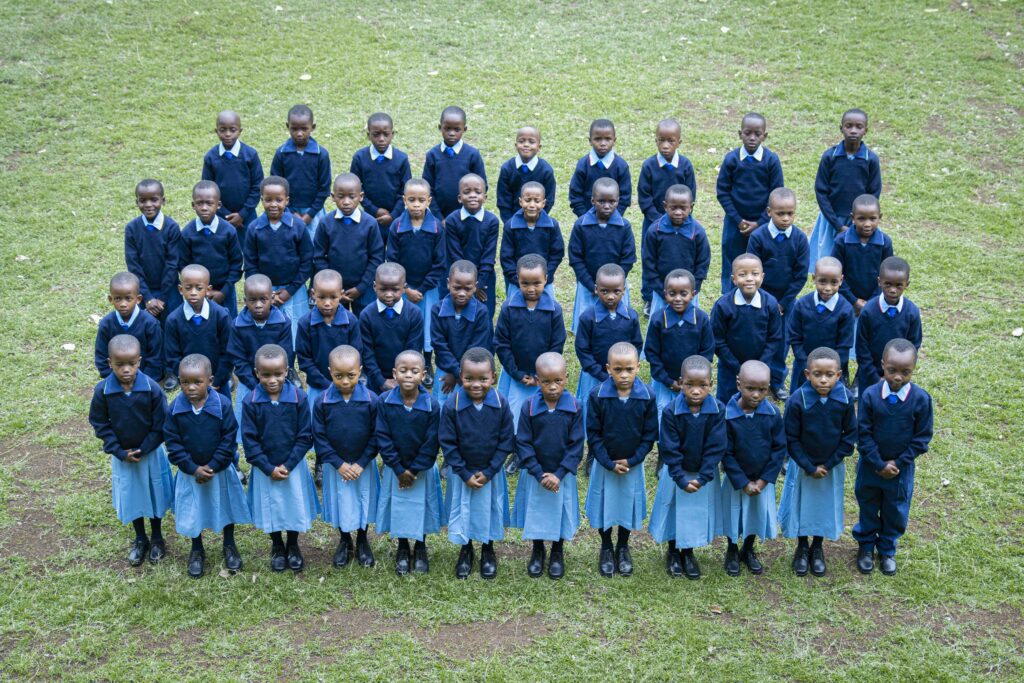 Every year, a St Jude's uniform is a gleaming ray of hope for the brightest, poorest Tanzanian students who are lucky recipients of an academic scholarship.
The school's blue uniform is a dream come true for these students joining either in Standard 1, Form 1 (O Level), or Form 5 (A-Level).
There are three key stages of school in Tanzania; seven years of primary school from Standard 1 to 7, then four years of secondary school from Form 1 to 4 in Ordinary Level (O Level) studies, and finally the final two years of secondary school, Form 5 and 6 in Advanced Level (A-Level) studies.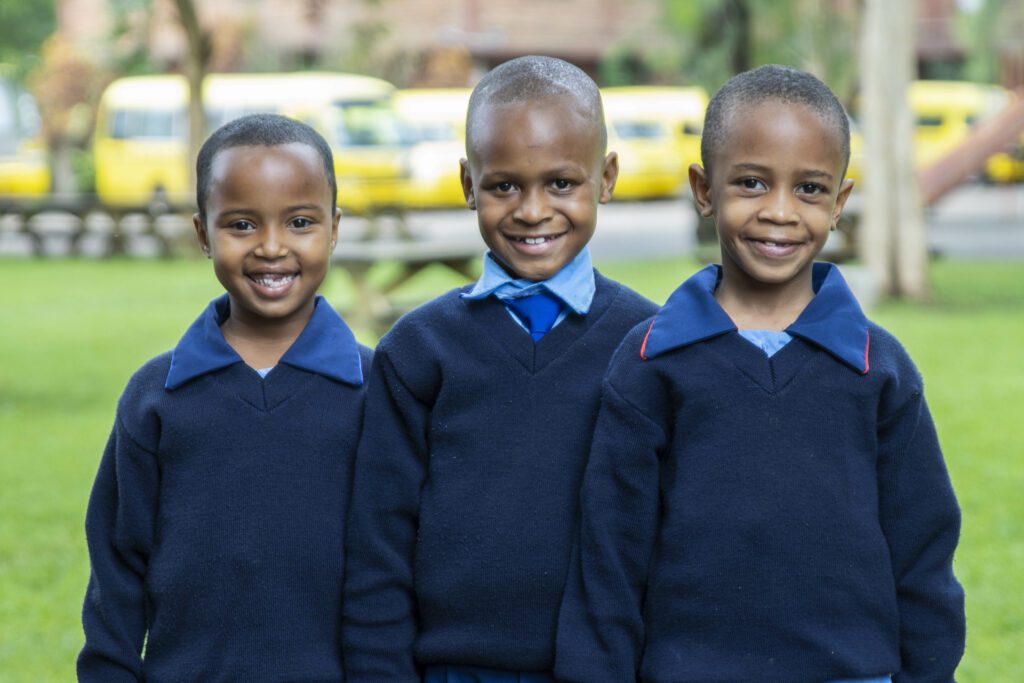 Primary Students
Meet Happiness, Alvin, and Rahma, the newest Standard 1 and 2 students at St Jude's.
Rahma and Alvin hope to become pilots when they grow up.
"I am happy to wear these new uniforms," says Rahma who is Standard 1.
"When my mother saw me with the new uniforms, she congratulated me and we celebrated together," she adds.
Recalling his own experience, Alvin says, "My mother brought me to the school on Uniform Day, she was delighted to see me wearing my St Jude's uniform."
"In class, I now enjoy writing and reading. Hopefully one day I will achieve my dream of becoming a pilot," Alvin adds. Happiness who aspires to become a doctor when she grows up showed off her new uniform. "I look really smart in my uniform. I love it!" she says shyly.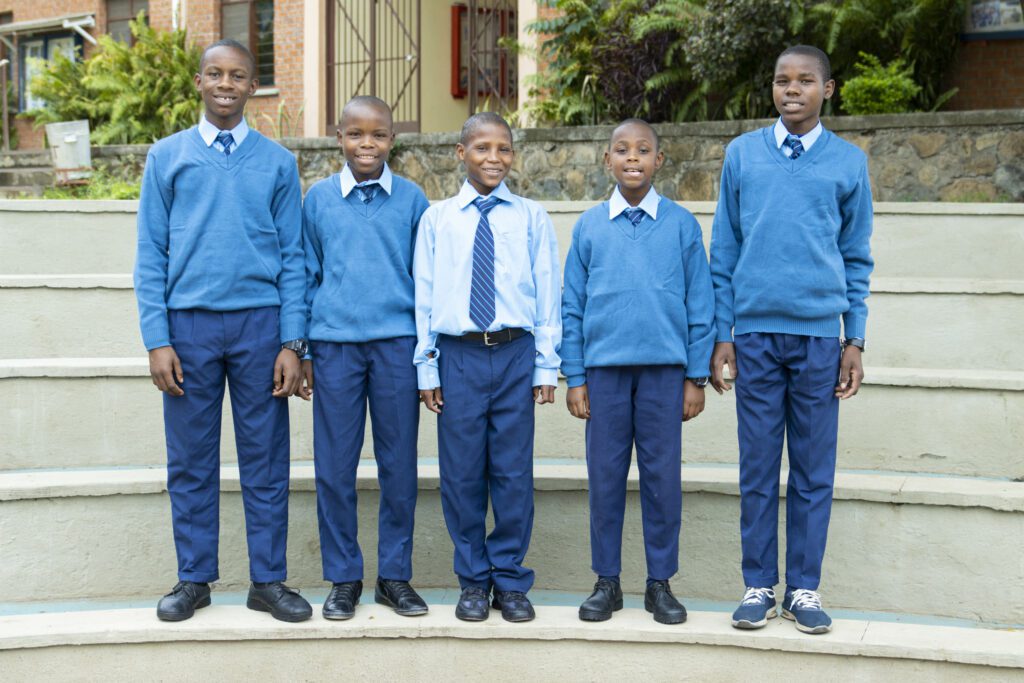 Form 1 Students (O Level)
Wearing the St Jude's uniform for the first time is a proud moment for new secondary school students who have completed their entire primary education in a government school.
The school invites top-performing students from government schools to take part in the scholarship application process. Scholarships are awarded only to the brightest and poorest students.
Juma, who just started his first year of secondary school at Smith Campus, is thankful for the opportunity to wear a St Jude's uniform.
"Wearing these uniforms gives me hope for my future. I used to walk for hours to get to school, we didn't have hot lunches, proper learning resources and classroom essentials like we do here," says Juma.
"With St Jude's, I don't have to worry about walking far to get to school. I can now focus on my studies and become a better student," Juma explains. Similarly, Naftal, who joined St Jude's this year, is thrilled to be receiving a free education. "Compared to the government school I attended before, I get the opportunity to study more at St Jude's. I'm looking forward to a beautiful future," Naftal says with excitement.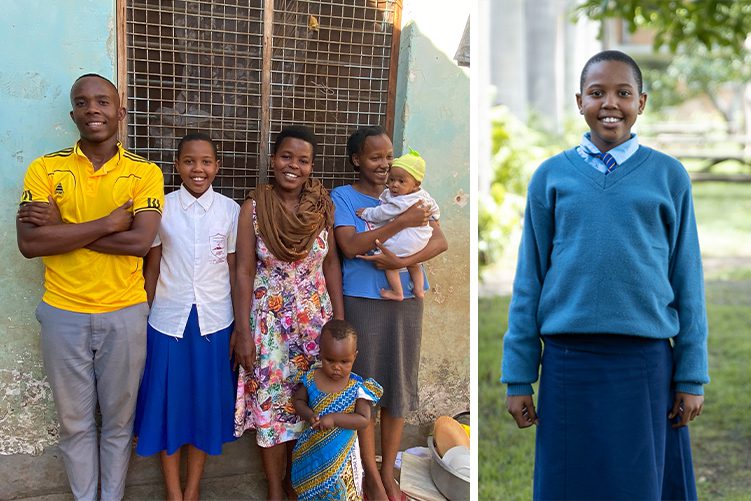 Aspiring to become a president, Maurene believes that wearing a St Jude's uniform brings her closer to her dreams. "Being accepted to receive free quality education means that I can study hard and help my parents when I graduate."
"I hope to become a leader one day. It is my dream to help my community out of poverty. Should I not be a leader, I wish to become a doctor," Maurene adds.
Academic scholarships for secondary students cover a student's educational and boarding expenses including; uniforms, boarding facilities, learning resources, daily nutritious meals, clean water, health and welfare support, and everything else needed for a successful education.
Now that they have uniforms, all the new students are ready to begin taking steps towards a brighter and better future for themselves and their families.
Your support provides all new primary students with the resources they need for a successful education. Sponsor or Donate today!
Replies