Sebastian earned his academic scholarship to St Jude's at the end of 2013 and started in Preparatory class at Sisia Primary Campus the following year, eager to learn and participate. In four years, he has gone from strength to strength, thanks to his Australian sponsors, and many generous donors who go the extra mile to support students with additional needs, through St Jude's Medical and Welfare Fund.
Sebastian, 11 years old, was born with albinism and nystagmus, an associated eye condition that impairs Sebastian's ability to see or read as easily as his classmates.
However, the exceptional young student refuses to be diminished by his medical conditions. In fact, he is one of St Jude's best-performing students in Standard 4, regularly achieving all A and B grades in each of his nine subjects.
Currently, the nation does not have sufficient resources to support all children like Sebastian.
There is one doctor per approximately 32,500 people in Tanzania, according to Global Health Action. It is estimated that one Tanzanian child out of 1,400 births will be born with albinism.
Although the odds were once stacked against Sebastian, his gift of a high quality education at St Jude's means he is leaping towards a successful future.
People with albinism are at risk of stigmatisation, cruelty and violence in Tanzania due to cultural and spiritual beliefs that their hair, skin and body parts contain magical powers, or that they are ghosts of European colonists.
At St Jude's, Sebastian is kept safe from potential harm and his peers are educated and supportive of him.
"My best friend is Joshua in my class. We enjoy playing at lunch time and telling jokes on the school bus. Sometimes I am even able to help him if he needs extra help with school work!" Sebastian shared.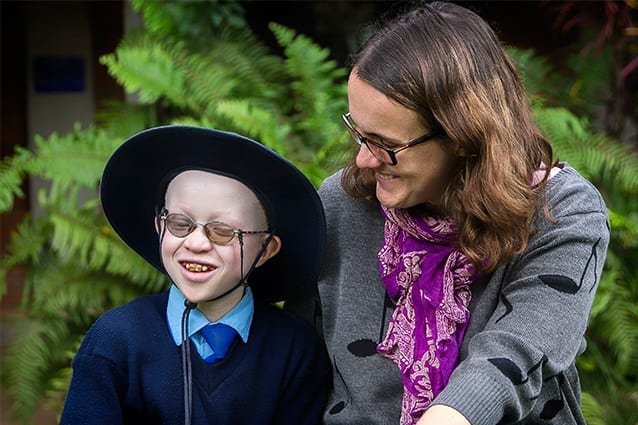 St Jude's Community Relations Manager, Charlotte, oversees the welfare of all students across our primary and secondary campuses. Each day, she communicates with Sebastian to ensure he is content and healthy.
"If Sebastian were in Australia, I believe he would be considered legally blind, because he cannot see the blackboard even if he sits at the front of the class. To address this issue, the Rotary Club of Brisbane High Rise donated an iPad to the School, after they met Sebastian during a 2015 visit to the School from members of this Rotary club," Charlotte explained.
"In 2014 when I started Standard 1, I did not have an iPad and it was hard to learn. With my iPad, I can just take a photograph of the blackboard and zoom in as much as I need to, which makes it much easier," Sebastian added.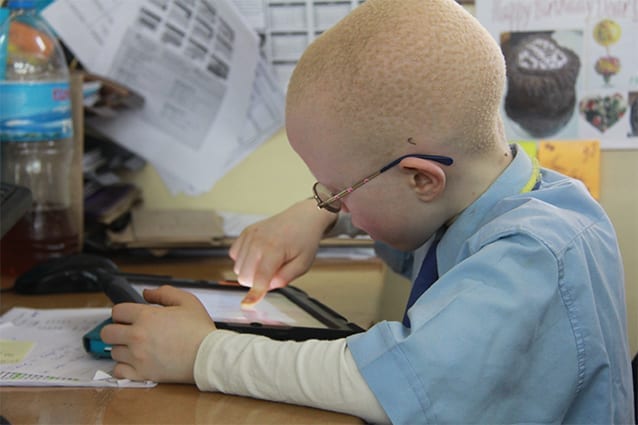 "Every day in the afternoon, Sebastian drops off his iPad to St Jude's Business Office to be recharged overnight. He collects it from the office in the morning before school. This works well because we can ask him how he is doing and we can help him to clean his eyeglasses."
"Our Medical and Welfare fund helps us to pay for students like Sebastian to receive glasses. Every year, we take him for eye testing in case his prescription has changed and we can get him a new pair," Charlotte said.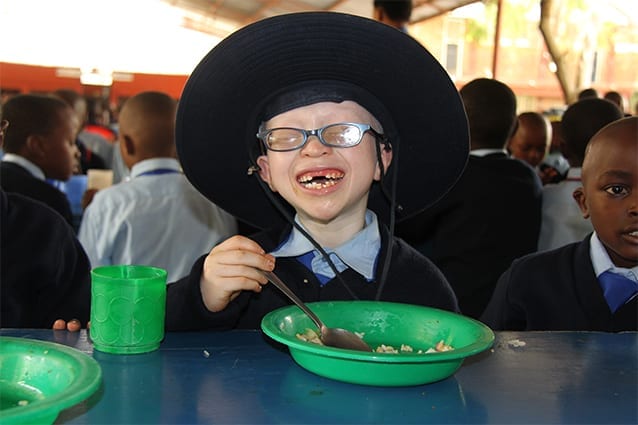 Beyond providing visual aids and classroom support for Sebastian, he also receives additional care during annual Medical Checks every March.
Three of Sebastian's sponsors are medical professionals, two of whom lead St Jude's annual Medical Check team.
"I loved seeing Doctor Pip and Doctor Craig in March. They brought me my favourite book. It is called My Secret Book of Rules. I really love it!" Sebastian said.
Given Sebastian's admiration for all his sponsors and ongoing support from compassionate medical professionals in Tanzania, his dream job comes as no surprise.
"I want to become a doctor when I grow up. I dream to help a lot of people," Sebastian said.
Sebastian will be able to help many people in the future, and it is thanks to donors and supporters from around the world. Donate today to St Jude's Medical and Welfare Fund to give our most vulnerable students some additional care.
Replies