Grace is sitting in the back of a St Jude's shuttle bus, tumbling across the flats of Arusha, towards Smith Secondary Campus. To her left looms Mount Meru, it's summit shrouded in cloud.Since 2008, Grace, who is visiting from Scotland, has been sponsoring the scholarship of a Form 5 girl by the name of Rahima. Today, she will meet Rahima for the first time.
"I'm excited," says Grace, whose eyes remain fixed on the Arushan landscape. "We've been exchanging letters for eleven years."
Grace lives in Shetland, an island off the north coast of Scotland. Her distinguished career in theatre has included being associate director of the acclaimed 'War Horse' production, when it toured Australia.
"Directing is about interpreting a story, and providing depth to that story," says Grace.
The story she sees in Tanzania is the effect education can have on a community.
"Education can change not just one person's life," she says. "But also the lives of their family, even their community."
On arriving at Smith Secondary Campus, Grace walks across the green lawns, and inside the Visitor Centre, waiting for Rahima.
"It's like a university," she says, looking outside, at the surrounding buildings with students teeming up and down the long, winding staircases.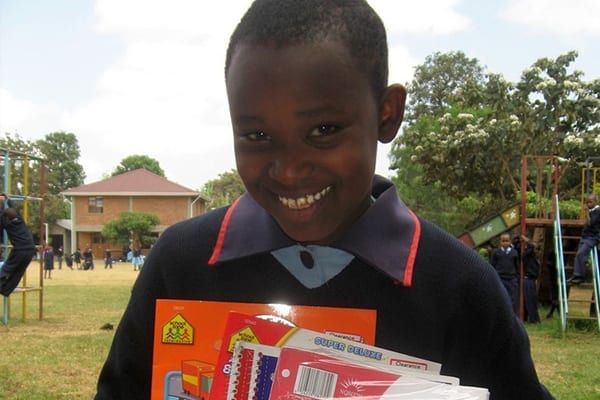 After a short while, Rahima walks into the room, visibly excited to see Grace for the first time.
"I remember when you were little," says Grace, looking disbelievingly at 19-year-old Rahima. "You would send me drawings of rainbows with stickers."
The two leave the room, side by side. Outside, a group of Rahima's friends are waving excitedly.
"They are happy for me that I am meeting my sponsor," says Rahima, with a smile.
Together, Rahima and Grace, with a teacher accompanying them, hop into the school bus as it takes off towards a remote suburb called Olasiti, where Rahima's mother lives. The drive will take an hour and a half - this doesn't bother the pair though as they begin to talk in earnest.
Rahima chats about her favourite writer, Adam Shafi Adam, while Grace shows pictures of Scotland on her phone.
Grace can't stop looking at Rahima, seemingly mesmerised by the fact that the girl she has been sending letters to since the age of seven is now sitting next to her, on the cusp of womanhood.
As the bus moves closer to Olasiti, the roads shift from asphalt to dirt. Fields of maize and beans extend as far as the eye can see. As the bus bounces over rocks and dodges potholes, it becomes hard to maintain conversation.
Rather than sit in silence, Grace and Rahima begin singing songs together, over the racket of the road.
Eventually, the bus turns left down a street filled with playing children and dust covered dwellings.
Out steps a woman from behind a rusted tin fence, bearing a big smile and wearing a long grey dress littered with blue polka dots.
The woman's name is Margaret, and she is Rahima's mother.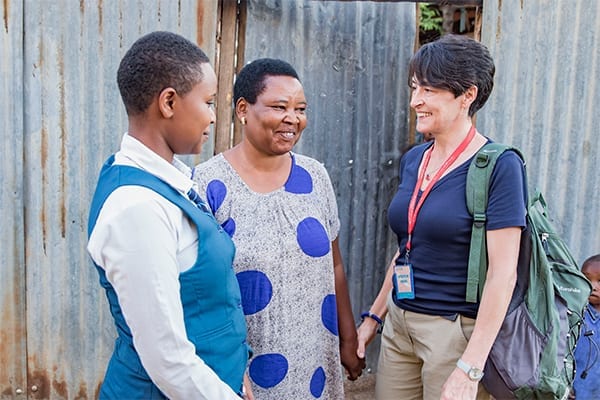 When Rahima and her brother were young, their father walked out on them. He took all their belongings with him.
Margaret didn't have a job at the time – she was left with no furniture, and no money. A friend of hers, a woman from the neighbourhood, heard about Margaret's predicament and decided to pay the bills.
Eventually, Margaret got a job as a housekeeper, slowly piecing her life back together, before her life took another turn – this time for the better.
One day, Margaret was at the market when an announcement was made about a school named St Jude's that was accepting applications. On a whim, Margaret decided to have her daughter sit the exam, joining thousands of other applicants from around Arusha.
In August of 2007, Margaret was visited by St Jude's – her seven-year-old daughter had got a place.
Now, Margaret is proudly welcoming her guest into her home – filled with the furniture she bought, and the daughter she raised.
Inside the one-room house, everything is blue – the couches, the walls, even the curtains.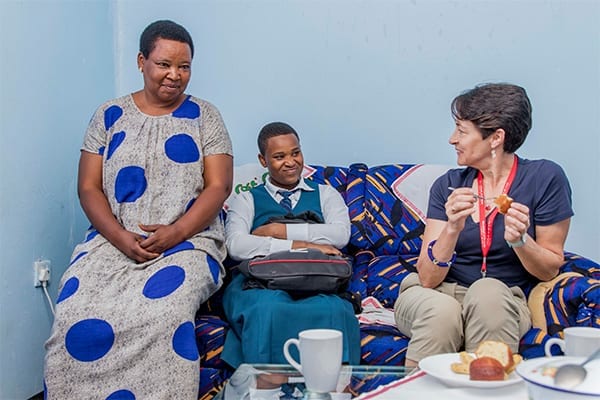 Margaret presents Grace with a bright red 'kikoi', a traditional African woven cloth, to say thank you for sponsoring her daughter's education.
"In Scotland, I will put this on my wall," says a grateful Grace.
"Come back again," says Margaret. "And I will get you another one."
The two women begin to talk about Rahima, and her bright future.
"She will be a minister in our government," says Margaret, absent mindedly stroking her daughter's shoulder. "Maybe even the President!"
"I want to be a lawyer," laughs Rahima.
"What would you do if you were President?" asks Grace.
"I would change everything," jokes Rahima.
The three women step outside to take photos. The summit of Mount Meru is now clear, its contours rippling in a brilliant blend of orange and yellow, that can only be found during an African sunset.
Standing on the front step of the house, Grace and Margaret grin at the St Jude's photographer, Onesmo, while Rahima is filled with teenage embarrassment from all the attention.
"Smile, Madam President!" says Onesmo, capturing the moment.
Share in the growth of one of our students and see them flourish. Sponsor an academic scholarship today.
Replies