Quotes amended in parts for best sense.
Some of our eager new secondary students are proving their dedication by participating in optional weekend English conversation lessons at Smith secondary campus.
Until beginning their studies at St Jude's in January, the students had only been educated in Kiswahili at government primary schools throughout Tanzania's Arusha region.
Starting secondary school is a high achievement in itself for these young people.
Passing their Standard 7 national exam at the end of primary school is sadly not the norm for many Tanzanian children who have to contend with class numbers of over 60 and walking long distances to and from school every day.
It is estimated that only 30% of secondary school aged Tanzanians are receiving an education.
But, our new Form 1s have one obstacle remaining: learning to speak fluent English.
Several St Jude's international employees voluntarily travel to Smith secondary campus on Sundays, where they engage students in informal conversations, presentations and debates.
St Jude's Community Relations and Welfare Coordinator, Tracey, devised the program after Form 5 student selection last year. She saw it as a way to complement the School's formal academic and language support processes.
"Some students [during house checks] struggled to understand simple things said by foreigners — for example, 'how old are you?' or, 'please sit here.'"
"These students, aged between 17-20, had done very well in their Form 4 exams, which are completed in English, so I felt that maybe they had not been exposed to foreign accents and different ways of saying things."
"Hopefully by becoming used to hearing foreign accents, they will be able to make use of the opportunity to meet visitors to St Jude's, who have experience in all sorts of professions which may interest our students."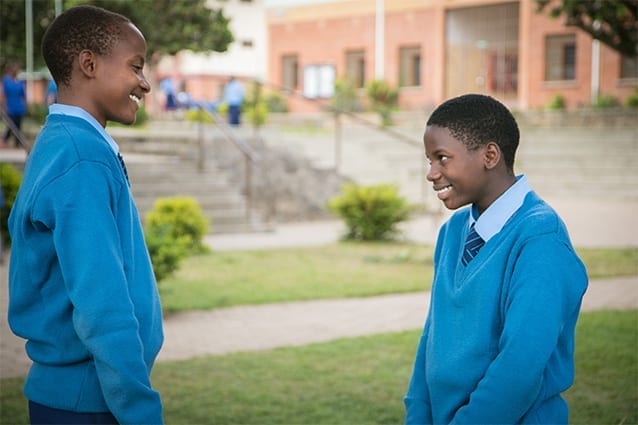 Lenatha and Goodluck, aged 13, participate in the conversation program, which has helped to improve their confidence.
"Speaking English is a great challenge for us," Goodluck confirmed.
"Until now, I learnt English from repeating conversations foreigners had with me in the street around town. If we can speak English it means we have greater opportunities after school," Lenatha added.
"The teachers are very good. I feel blessed to be at this school. In one sentence, I can say what St Jude's means to me: it shows us who we are and it makes us proud," Goodluck shared.
"In the villages we come from, St Jude's is known as one of the best because the quality of education is high and it helps people who need it most."
Goodluck's mother, a waitress, is the sole parent of three children. Goodluck is the eldest child, with two younger sisters for whom he sets an excellent example.
A free, private education at The School of St Jude opens the door to higher education, giving Goodluck every hope of securing his dream job in the science or medical field.
With wisdom and insight beyond his years, Goodluck spoke of his ultimate goal.
"If I can finish school, I will provide a foundation for my family's dreams and future. Life is very hard in this world, but I will help to make ours good."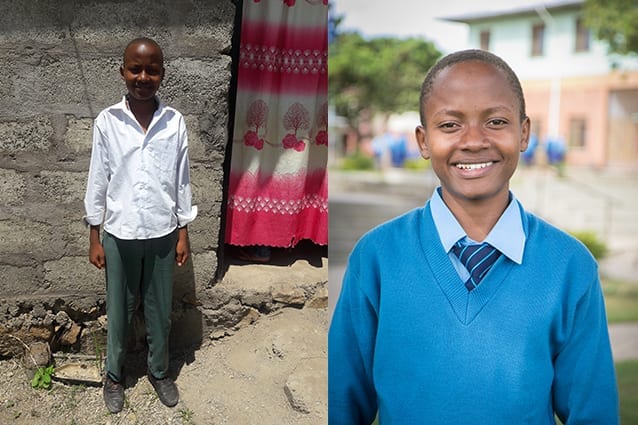 Lenatha is the beneficiary of an opportunity her own mother never had.
"My mother got high enough grades to go to secondary school, but her parents could not afford it, so she is really happy that I get the chance [to attend secondary school]," Lenatha said.
"Mum sells potatoes and tomatoes in a small shop. She teaches me that it is good to have some money, but money can be taken away."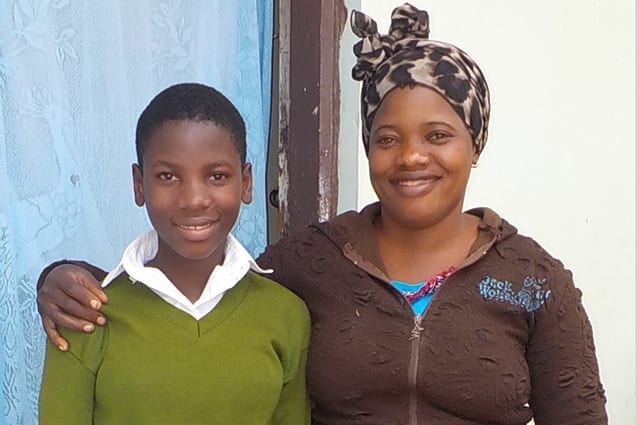 "Education is like the ocean; it never ends and it cannot be taken away from us."
Our courageous new students are already making waves in their communities. Help St Jude's fight poverty through education so that students like Goodluck and Lenatha can achieve their dreams: become a Form 1 sponsor today.
Replies