Amid the humid and lush conditions of the school's shamba (Kiswahili word meaning farm) and greenhouse, Form 4 student, Daudi, is digging in - preparing for his future as a possible leader in agriculture, a sector embedded into every Tanzanian's life.
"Agriculture is the backbone of our country, around 70% of our residents are planting crops to earn money inside the country and provide for their families," Daudi shared as he cleans cucumbers.
As well as being a necessity for many Tanzanians to sustain themselves, agriculture is also a big industry of growing importance in Tanzania's economic growth, thanks to land and water resources, agricultural entrepreneurs and access to international markets through a major port.
The opportunity to develop both life and business skills is why every secondary student is responsible for the upkeep and improvements to the Smith Secondary Campus' shamba during their time away from the classroom.
As farming tools sliced through the crisp morning air, Form 4 student Quinn washes up after a big morning among the bounty of fruit and vegetables.
"We are given duties each month. Today we have been weeding for the rest of the plants to grow properly. It's a big advantage as even if you don't choose that field of study, you can start your own farm to be sustainable. Maize and beans are very important in Tanzania, they help us minimise effects of inconsistencies of wheat production," Quinn explained.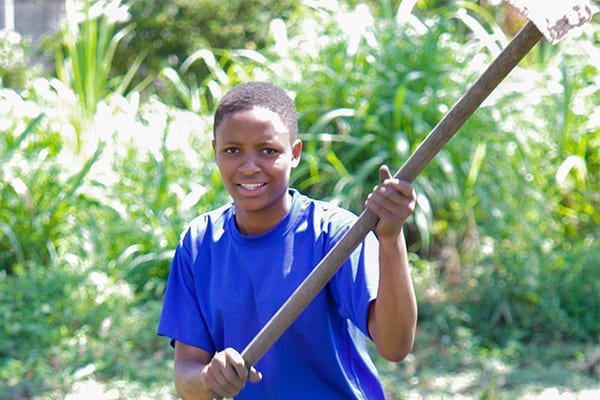 Overseen by Mr Ernest, Head of Service at Smith Secondary Campus, the self-reliance program has been hugely successful since its inception almost two years ago.
"Skills learnt from the shamba cannot be taught in the classroom. When you bring them to the farm you impart a new skill that might be very helpful in their future," Mr Ernest beamed as he shoveled soil.
The experienced teacher has recently introduced some of the newer additions to the shamba, six healthy pigs.
"The new pig project is about having a small livestock entity for students to learn to take care of the animals. We don't make profit from the pigs, we are loaned them from the local villages and then we pass them back to the community. We do this for the purpose of learning and it benefits the communities because we feed and take care of the pigs while we have them here," Mr Ernest noted.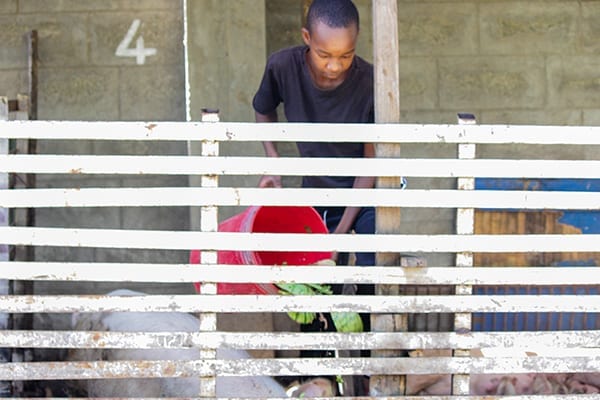 The shamba has planted the seed for students to consider a career in agriculture with six St Jude's graduates undertaking agricultural studies at university this year.
"We have a dedicated University for Agriculture here in Tanzania. In our previous cohort of Form 6 graduates, we had one young man who is doing very well in advancing agriculture and he credits the shamba for developing his passion," Mr Ernest proudly explains.
Eggplant, sukuma wiki (collard greens), cabbages, bananas, sweet potatoes, mangoes and tomatoes are just some of the shamba offerings that go from paddock to plate each day, feeding the hardworking school community.
With over 2,000 mouths to feed every lunch, and approximately 1,400 students who eat breakfast and dinner at the boarding houses as well, St Jude's needs a mountain of produce and the produce from the shamba helps to contribute to this.
"Here at the school we have very good meals which are comprised of all the foods that make a well-balanced diet. We have proteins, vitamins and carbohydrates. Where do we get those things? A lot of it comes from our farm," Daudi smiles as he sorts veggies for that week's lunch.
Meaning St Jude's students not only reap what they sow in the shamba but their hard work is ensuring the good health of our students and staff too.
Help our students continue to build valuable life and business skills alongside their education in the classroom. Make a general donation today.
Replies