Overcoming vision impairment in a developing country is no easy task, especially when you're trying to focus on your education, but two of our students have done just that.
Primary school student Sebastian and secondary student Selemani are both severely vision impaired due to albinism, but a group of generous Australians are helping them focus on their education.
The Brisbane-based group have worked together to provide specialised equipment for both students, so they can access the curriculum like their normal-sighted peers.
Selemani said he had tried various solutions during his schooling, including a prescription monocular (an optical instrument for use with one eye) and glasses, but without success.
Simply mentioning his new set-up brought a huge smile to his face.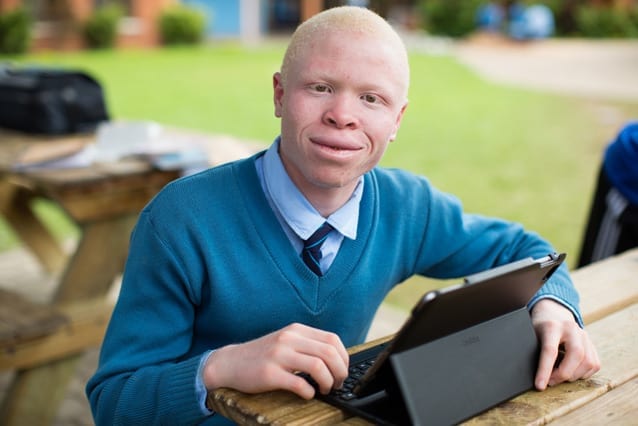 "I have struggled to read the blackboard since I was in Standard 1 (Grade 1). I used to wear spectacles but they didn't help much, so I still needed to go close to the board," the soon to be 18-year-old said.
"Now with the iPad, I can see! It has a camera that takes a photo of the blackboard, and I copy it in my iPad. It's so easy to read, and I can zoom in and out!"
When Brisbane High-Rise Rotarians visited St Jude's last year, Selemani volunteered to show them around campus. Vision Australia physiotherapist Louise Arvier was amongst them, and she realised how Selemani's life might be drastically improved with equipment that's difficult to come by and afford in East Africa.
The Rotarians arranged to provide Selemani, Sebastian, and another St Jude's student with cerebral palsy, an iPad with specific software each to facilitate their learning.
At almost nine years old Sebastian already suffers from similar difficulties to Selemani, and the equipment is already making a difference.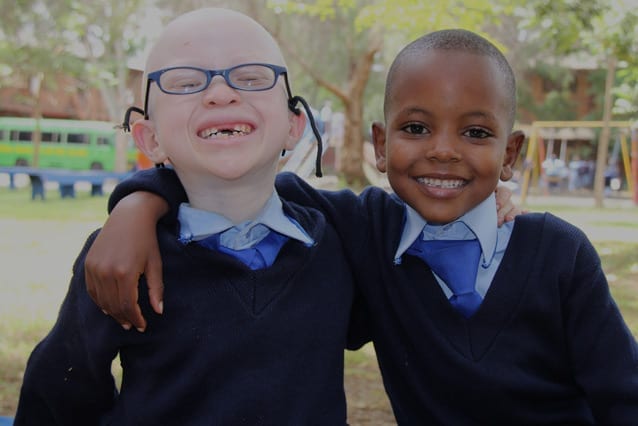 "Sebastian has been at the school for two years now, and seeing the progress in his performance over the past few months (with his new equipment) is amazing," St Jude's Community Relations Officer Charlotte Peyrat-Vaganay said.

Mrs Arvier said two of the iPads were donated, and the Rotarians fund-raised to purchase one specifically for Sebastian, as he needed the latest version to support the up-to-date software.
She and her husband, fellow Brisbane High-Rise Rotarian Dr John Arvier, personally provided the Sony Camera lens' to attach to the iPads of both students.
"It not only allows them to take pictures of the board but of handouts and anything they find difficult to access," Mrs Arvier said.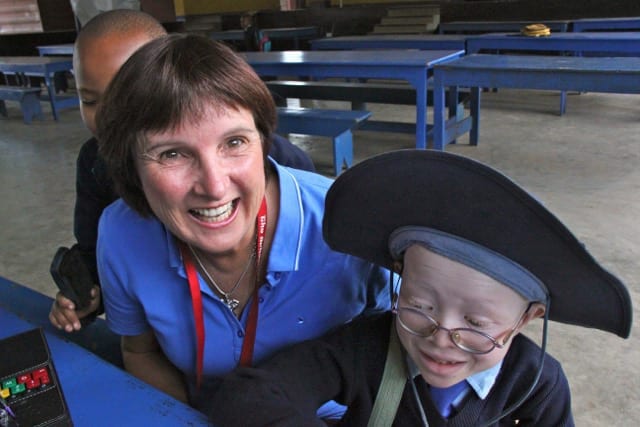 With the addition of iPad cases, keyboards, several styluses and the appropriate Apps through iTunes, donated by the couple, Selemani and Sebastian can both access the curriculum like their sighted peers.
The excitement and cheer Sebastian and Selemani have been radiating makes the joy they feel about the group's generosity obvious.
Their increased self-confidence, self-esteem and independence is already showing, with Selemani competing in a public speaking competition late last year.
Replies