A passion for science is in St Judes' DNA.
Following our three consecutive, successful years competing in the Tanzania Young Scientist (TYS) competition, sponsor and major electricity supplier Songas has awarded St Jude's a special Passion for Science Award.
"This is a major honour for our school," St Jude's Head of Department for Physics and Assistant Academic Master Nzinyangwa Mcharo said.
"For the past six years, St Jude's has shown its passion for science through the annual Science Day, which brings together young scientists from around the region to work on projects that will solve the problems facing many Tanzanians.
"We are so honoured Songas has recognised our Passion for Science and this award will inspire our students to continue the work they've been doing."
Songas also awarded St Jude's 2.5million Tanzanian Shillings (Tsh), which was used to purchase two desktop computers.
The awards kept rolling in for 2015 Science Fair winners Venance and Martin, who earned a 400,000Tsh prize from Songas for their Smart House with Raspberry Pi entry. 
It's another exciting step for Venance, who has been at St Jude's since Standard 1 (Grade 1) and always valued his education, using his time to pursue passions for science, computers and engineering.
It's no wonder he and Martin are good friends, as Martin also began at St Jude's in Standard 1 and is enthusiastic about engineering and physics.
Having come from homes without plumbing and electricity, both students' families have also instilled the value of hard work. This, combined with dedication to their high-quality educations, has seen Martin and Venance on track to successful futures.
When their TYS entry took out first place in the Technology category last year, it capped off a great run in national science recognition for St Jude's. Ntekaniwa and Hashim won a special award for SMS Voting software the year before and in 2013 Liston and Riziki won second prize in the Technology category for their Hybrid Generator.
St Jude's has emerged as a national leader in science, with last year's inaugural Form 6 graduates placing in the top 10% of chemistry, physics and advanced mathematics in the national exams.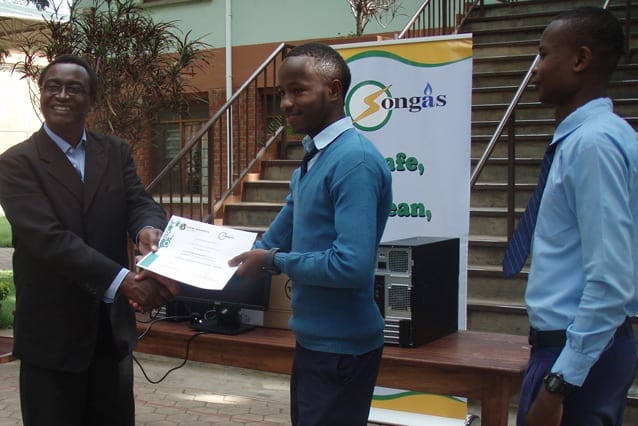 Tanzania Young Scientists' Dr Goziberth Kamugisha, Songas Ltd representative Dr Mkodo and Songas Community Relations officer Nichodemus Chipakapaka came to our secondary campus in February to personally deliver the special award and speak to students.
Support St Jude's commitment to academic excellent by donating here, and keep an eye out for more on our 2016 Science Day in late April.
Replies