There was an unexpected friendship formed during graduation week between Toowoomba supporter Marilyn and two of our graduates.
Marilyn and her husband, David, had been sponsoring the scholarship of talented musician, and stand-out student, Silvesta until he sadly passed away in the middle of his Form 6 year.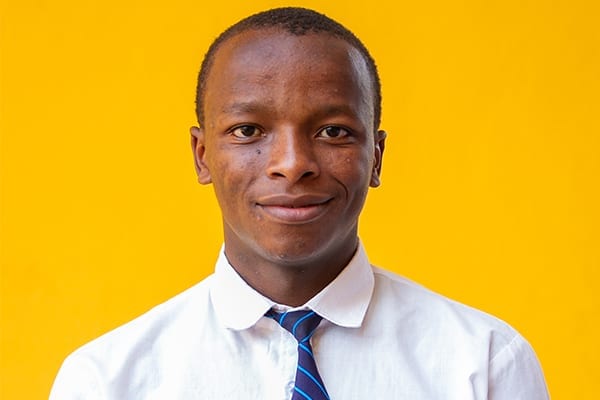 Determined to help honour his legacy, and help his fellow graduates in any way she could, Marilyn still travelled to Arusha for the Form 6 graduation ceremony of Silvesta's class.
As soon as she stepped onto the Smith Secondary Campus she was met by the warm smiling faces of Evance and Rahim who had been Silvesta's best friends.
"It was a total surprise that these two bright young men looked after me. They gave me a tour around the campus. Because of our afternoon I learnt more about Silvesta and I was also able to do some career counseling with them," Marilyn said.
With Rahim hoping to study Linguistics after his Community Service Year with the Beyond St Jude's program, Marilyn was able to impart some wisdom, with her background also in Linguistics.
The camaraderie between the three, continued through to graduation day. Marilyn was able to spend a heartwarming afternoon with Rahim and Evances' families and presented them with traditional Australian gifts.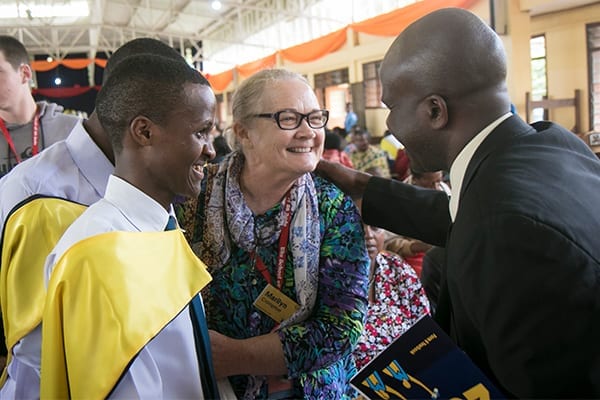 For graduate Rahim, Marilyn's presence added something special to his big day. "The best thing I've learnt from Marilyn is if something goes wrong you don't stop doing it, you keep going. She said that even though Silvesta is gone she won't stop helping St Jude's," Rahim recalled.
Since meeting Rahim, Marilyn has decided that she and her husband will sponsor Rahim's scholarship for his Community Service Year and will continue to be teaching, boarding and transport supporters.
The legacy of Marilyn's visit and Silvesta's memory will remain in the hearts of everyone at St Jude's.
"We were presented with some words from Marilyn and the document is now posted outside the library, so every student who comes and goes from the library can remember them both," Rahim smiled.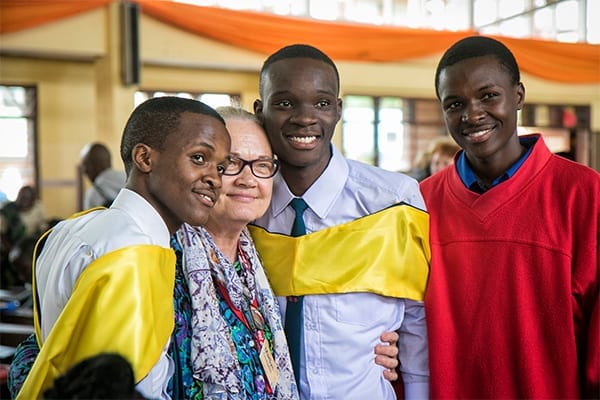 A gesture that brought tears to Marilyn's eyes.
"I am not just connected with one student, I now have three connections and I know they are going to make a difference to their country," Marilyn shared.
Below is an excerpt from Marilyn's words that every secondary student and visitor can read outside the Smith library.
"Over the years, we have supported the school and one of your students, Silvesta who sadly passed away in 2018. We observed through many letters we received from him, the change from a young boy to a young man with future aspirations who learnt through education, sport and music. We appreciate the opportunity given to us to support this wonderful young man and the school and importantly, its people- the teachers, the many support staff and the students. It has been a privilege that my husband and I have been involved with this school. We aim to continue to support the efforts of all those from the School of St Jude as they seek to assist all of their students to 'become moral and intellectual leaders in the country.' It is only through education that people can change the world. The students have the opportunity to become life-long learners from the skills they have acquired at St Jude's. The School of St Jude continues to educate and prepare their students to be noble citizens for their country."
Replies