St Jude's knows a healthy mind and a healthy body go hand in hand, which is why, for the thirteenth year in a row, a team of international doctors and health professionals volunteered for two weeks at The School of St Jude to perform free health check-ups for all students.
For the first time, the International Health Check team tested students across three different schools – the primary school, Smith secondary school and the new girls' secondary school. Each student received a physical exam, checking their height and weight and an eye and ear test as well.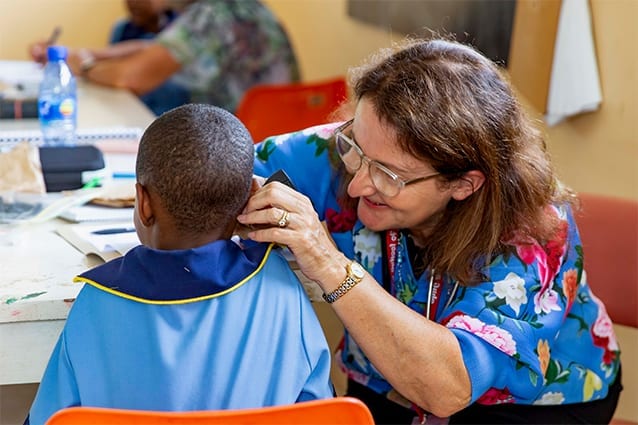 The team was made up of eight doctors, four orthoptists, two audiologists, a physiotherapist and seven dedicated helpers. There was also a social worker and a psychologist who worked with the welfare department and the new school counsellor.
"This year we are lucky enough to have quite a number of female doctors on our team which has meant we can have more female doctors at the girls' school and target the male doctors to the boys in the lower grades over at Smith Secondary Campus," Melbourne physiotherapist and team leader Jane says.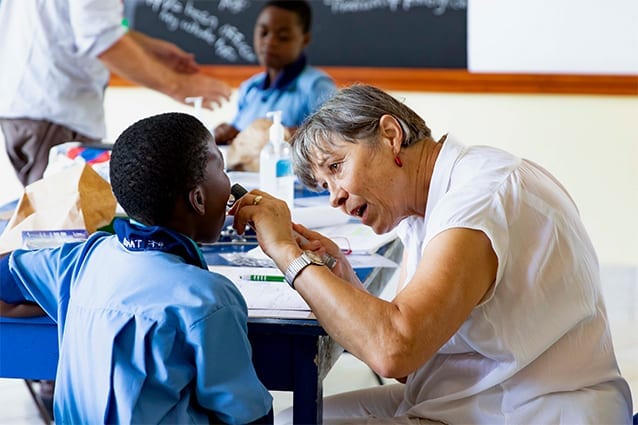 Dr Astrid, a semi-retired doctor, was new to the Health Check team but not to St Jude's. She decided to sponsor two male students, Shabani and Joffrey, after meeting St Jude's Founder Gemma Sisia when she was presenting in Armidale over 15 years ago.
"To see [the students'] excitement at being part of this school, from being selected to attend the school and in later years to see their commitment to this school is amazing. All the Form 6 students I spoke to intend on joining the Community Service Year program after graduation," Astrid reflects, when asked about what she liked most about the health checks.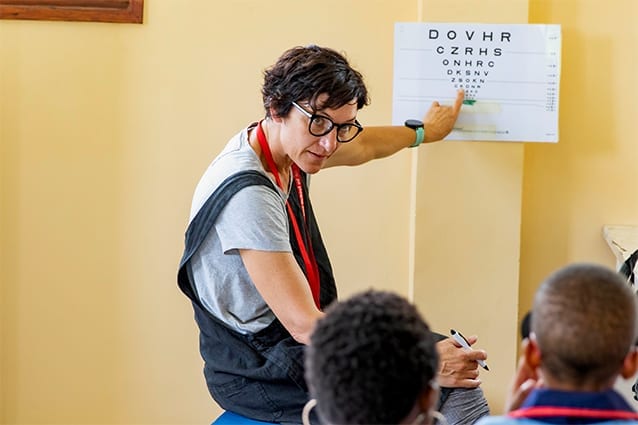 Caroline, an orthoptist, has been part of the team for three years now. She says the opportunity for all students to be seen by health professionals is what she likes about the program. She says a highlight has been returning this year and seeing improvements in the eye health of students.
"Last year, I tested a boy's eyes for the first time. His vision was 6/15, which is not very good and indicated he had a vision impairment," she explains, "so, last year we recommended he go to an optometrist to get a pair of glasses. Today when I saw him, he had his glasses on and he could see 6/6, which is equivalent to 20/20 vision. That was only possible because we assessed him last year. It was amazing!"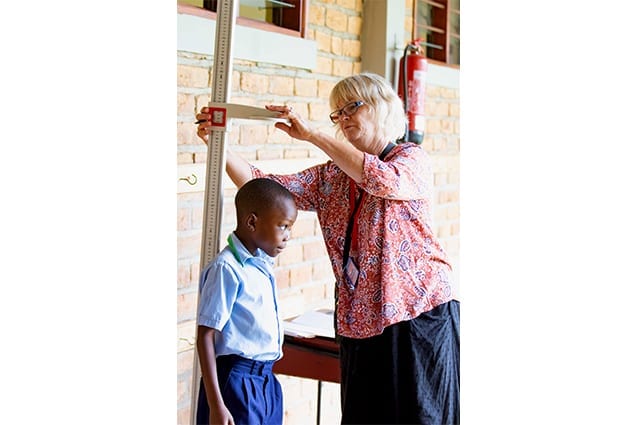 The annual health checks are pivotal in ensuring our students' success in their studies. Conducting them early in the academic calendar year allows any health concerns to be detected and then referred to health professionals in Arusha for further support when required.
The timing of this year's health checks was very opportune in the current context of COVID-19. Dr Craig, an infectious diseases specialist joining us on his seventh health check visit advised St Jude's on best measures and preparations to keep our staff and students safe during this challenging time.
Until next year's health checks, we are certain our students are now ready to tackle this academic year healthy and strong!
You can keep our students and staff healthy too by donating to our Area of Greatest Need! Your support will ensure St Jude's has access to the resources it needs to tackle the new challenges ahead.
Replies