If the last two years are anything to go by, St Jude's annual Science Exhibition is set to be the birthplace of some of East Africa's most prominent youth innovations.
Edgar, an International Eco-Hero, Anzisha Prize recipient and winner of The Children's Climate Prize 2017, launched his plastic recycling project at St Jude's 2016 event, while Erick and Prosper, Young Scientist Tanzania winners, came first place in last year's Science Day competition. All three students have represented Tanzania and St Jude's internationally.
In its eighth year, our recent Science Exhibition did not disappoint. More than 50 creative, surprising and innovative projects were displayed by students of all ages, with dozens of future scientists explaining their inventions to bustling crowds of peers, staff and visitors.
See some of our boldest and best demonstrations!
Human hair waste recycling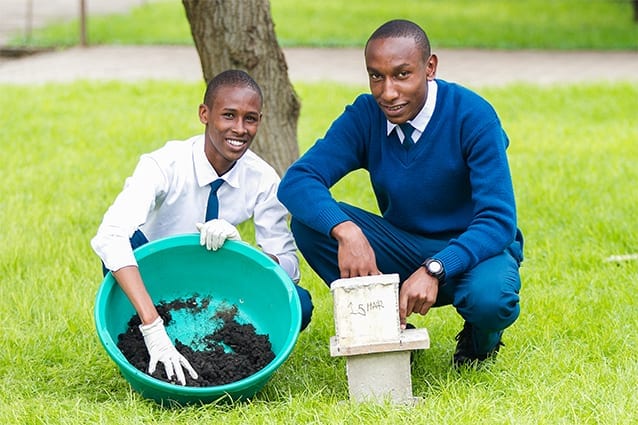 Form 5 students, David and Ojungu, have found an interesting use for hair trimmings! Their creative display showed how human hair can aid the production of herbicides, pesticides and fertilisers, as well as civil construction materials.
"Synthetic fibers are often used to reinforce steel and cement. The creation of these fibers harms the environment — but here, we have shown how human hair, an organic material, works well too!" David explained.
"Ojungu and I were inspired to undertake this project when learning about the compounds of human hair in biology. We certainly aim to develop the project and continue putting it to the test. Also, the nitrogen-based pesticide substance we made using human hair could assist farmers and people in rural areas of Tanzania. We are excited to progress," he said.
Drinking candle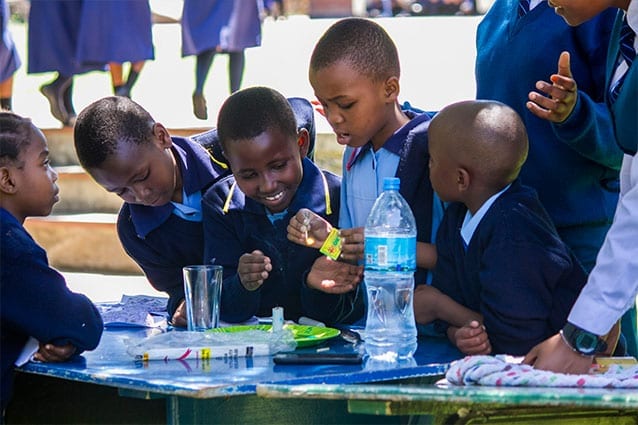 Innovation and scientific intrigue is not limited by age. A standout project on display was curated by six students in Standard 2… with teacher supervision, of course!
Maria, Suleiman, Silvia, Haika, Ashura and Arafa articulately described how coloured water can be absorbed into an upside-down glass with a candle inside, due to air pressure and temperature.
"What we do is pour water on the plate then add red food colouring, and put the candle at the center of the plate, finally light the candle. We then cover the candle with glass."
"When the candle burns inside the glass, the air inside the glass gets warmer. Warm air takes up more space than cool air. The air inside the glass pushes the glass. Expansion of the warm air causes the air pressure inside the glass to increase. So, water keeps flowing inside the glass until the air pressure inside the glass is the same as the air pressure outside the glass," Maria said.
Bio-diesel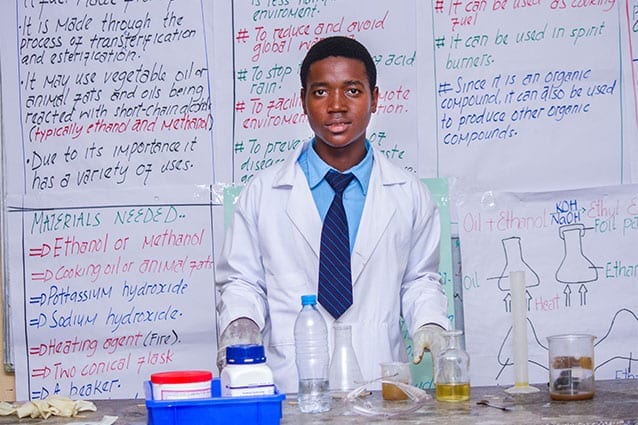 Secondary students, Samwell, Hilda and Eliya created a bio-diesel from locally extracted sunflower oil and ethanol.
"Sunflower comes from sunflower seeds and the ethanol from fermentation of maize, yeast and water. Mixing the ethanol, sunflower oil, potassium hydroxide and sodium hydroxide then we heat the mixture to 210 degrees Celsius. After heating to the required temperature, we get the bio diesel that can be used for cooking, in spirit burners and a substitute of petrol to run vehicles," Hilda said.
"We believe our project has a positive impact on society. It potentially provides employment through agriculture by growing crops used which are sunflowers and maize. Additionally, the fuel produces less carbon monoxide when burned, reducing greenhouse gases. This prevents global warming, acidic rain and destruction of the ozone layer," Hilda added.
We are proud of all students who participated in the 2018 Science Exhibition and look forward to seeing the development of these projects as the year unfolds.
If you'd like to see our young innovators in action, come and visit St Jude's!
Replies