It poured with rain across Northern Tanzania on Saturday, November 28, 2020. Still, nothing could dampen the spirit of St Jude's community, as they prepared for the biggest Form 1 Student Selection Day in the school's history!
Every year, until now, Form 1 Student Selection Day has been held onsite at Sisia Campus in Arusha. Government school students and their families travel from near and far, gathering outside the blue and yellow school gates from as early as 6:00am, hoping to pass the first stage of the academic entrance tests. It's a day full of promise for all involved.
In 2019, approximately 1,300 government school students were invited to Sisia Campus to take the academic entrance tests. In 2020, St Jude's community challenged themselves to go even further. For the very first time, 300 staff, parent representatives and Community Service Year volunteers divided and conquered, setting up testing stations in three regions across Northern Tanzania: Arusha, Kilimanjaro and Manyara.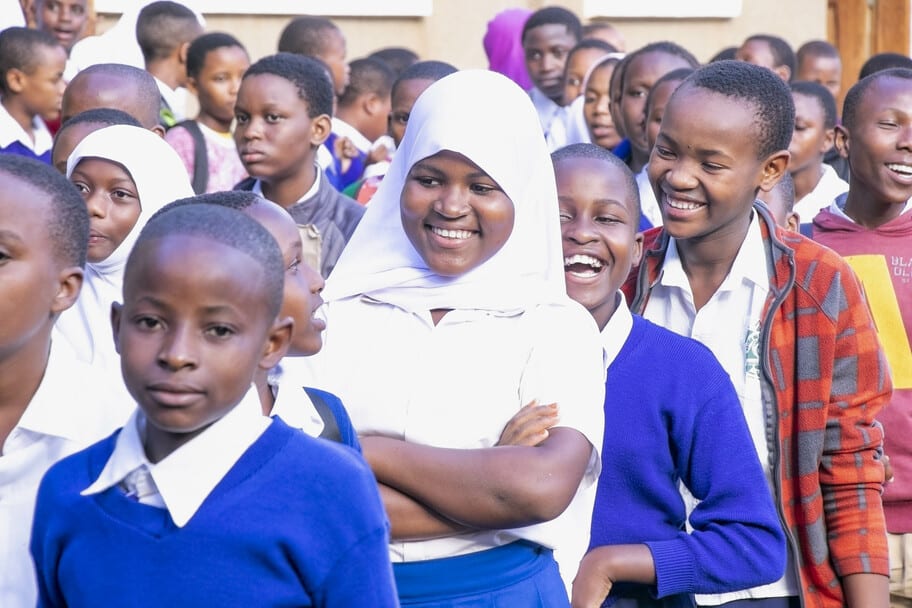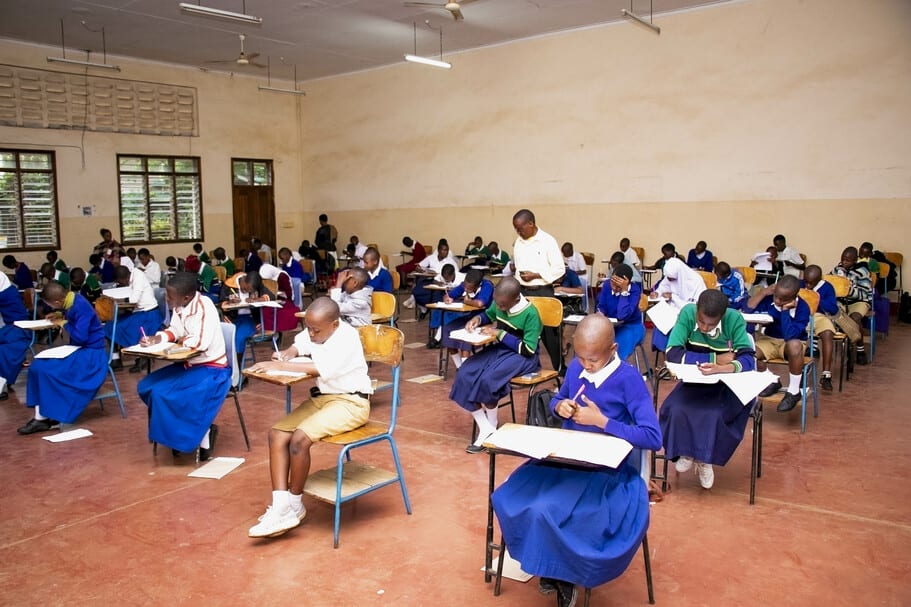 Nearly 4,000 of the top-performing Standard 7 students within the three regions were invited to sit the academic entrance tests. In total, around 2,300 government school students attended. Many of them trudged through mud for miles and crossed pot-holed roads to reach the testing centres by 7:30am, determined to succeed and earn a place at The School of St Jude.
St Jude's Deputy Director, Angela (who was also our first volunteer teacher in 2002) was based in Manyara on Selection Day this year.
"The great thing about Form 1 Student Selection is that, because these children performed well in their Standard 7 national exams, we already know they are highly motivated with their studies. They've thrived in under-resourced government schools for seven years. They've had minimal learning resources, and most have been crammed into classrooms with anywhere from 50 to 100 other students," Angela said.
Academic testing is just the first stage of the Student Selection process. To be eligible for a St Jude's scholarship, students must demonstrate their academic aptitude, but their family must also be very poor.
We test and select the brightest and poorest students so that those students can lead their family, community and country to growth and prosperity. This is how we are fighting poverty through education: the core aim of St Jude's.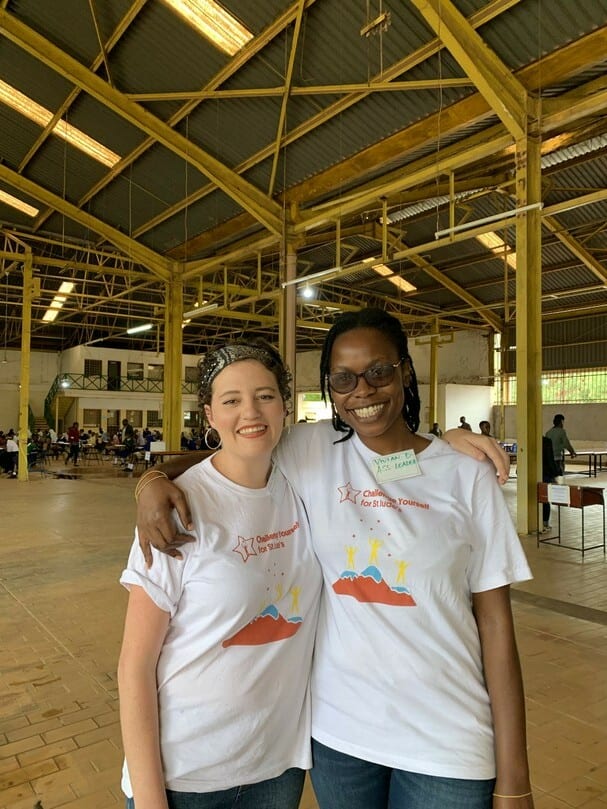 Vivian, Manager of the Beyond St Jude's program, has worked at St Jude's for six years and participated in 13 Student Selection days. Vivian was stationed at our selection centre in Moshi, a town near the slopes of Mount Kilimanjaro. She knows that our hopeful Form 1 applicants have quite the climb ahead.
"This Selection Day was very special. We went so far out of our comfort zone. Because of this, we will see an even bigger impact of St Jude's across Tanzania in years to come. I was Gemma Sisia's assistant leader at the Moshi testing centre. Our hearts were in our throats all day, and our adrenaline was pumping. We could see the great need for these students to receive a quality education," Vivian said.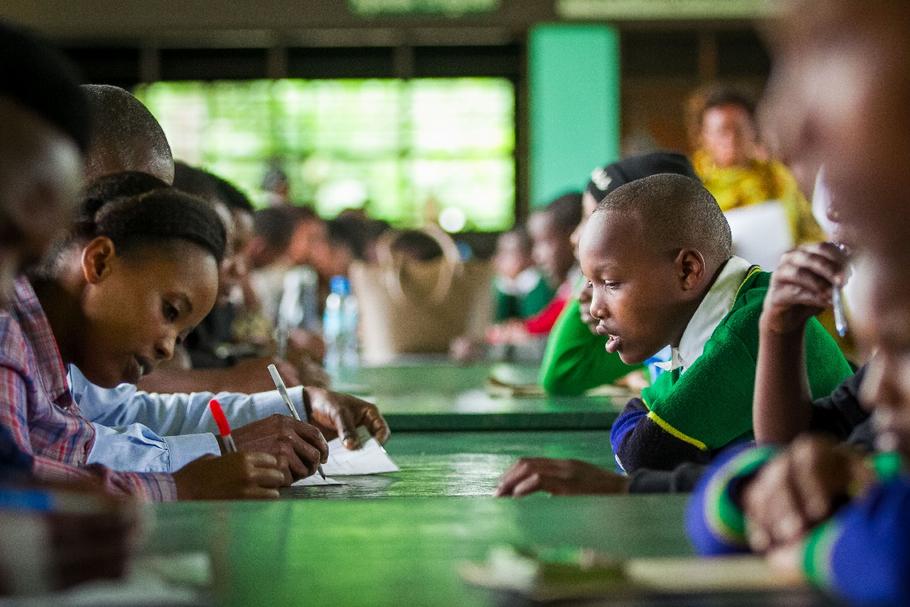 Out of more than 2,000 students who took the tests, approximately 400 have successfully progressed to the next gruelling stage of Student Selection: poverty assessments. Teams of staff will again venture across Arusha, Kilimanjaro and Manyara, interviewing students in their homes, to ensure they are well-deserving of a place at St Jude's. There are 240 Form 1 academic scholarships on offer to students next year.
St Jude's Founding Director, Gemma Sisia, a self-proclaimed, "challenge junkie," was thrilled to be a part of the action.
"I'll always remember Saturday, November 28, 2020, as one of the best days of my life," Gemma beamed.
"The spirit and teamwork of our 300 staff, who pulled this all together, was truly phenomenal. Now, we can help more young Tanzanians and their families to overcome poverty and work their way towards a bright future," she said.
In each selection centre, the day began with heavy rain and ended with a rainbow as staff clapped and cheered for the students who passed the first stage of selection.

After a long, anxious wait, parents warmly welcomed their child back into their arms, grinning with pride and holding their hands as they began their long journey home.
The school hopes that St Jude's students – Tanzania's future leaders – will pave the way to a smoother journey for themselves and their communities in years to come.
Would you like to provide a scholarship for one of our 120 new Form 1s? Click here to see our sponsorship packages.
Replies