The School of St Jude is blessed with many alumni coming back to work at the school as employees. Whether it be in classrooms, sports grounds or offices, the returning alumni are supporting the next graduates of St Jude's.
The school recently welcomed back Daudi, Innocent D and Innocent M, who are now full-time employees within St Jude's Head Office.
They all received free, quality education from Standard 1 to Form 6 and then were supported through higher education by the Beyond St Jude's (BSJ) Program. Now, they wish to give back to the school's community and share their stories of transformation.
In Tanzania, there are three stages of school; seven years of primary school from Standard 1 to 7, then four years of secondary school from Form 1 to 4 in Ordinary level (O Level) studies, and finally the final two years of secondary school, Form 5 and 6 in Advanced Level (A Level) studies.
The BSJ Program supports secondary graduates to undertake a Community Service placement and then provides them with the funding and support for their first higher education qualification.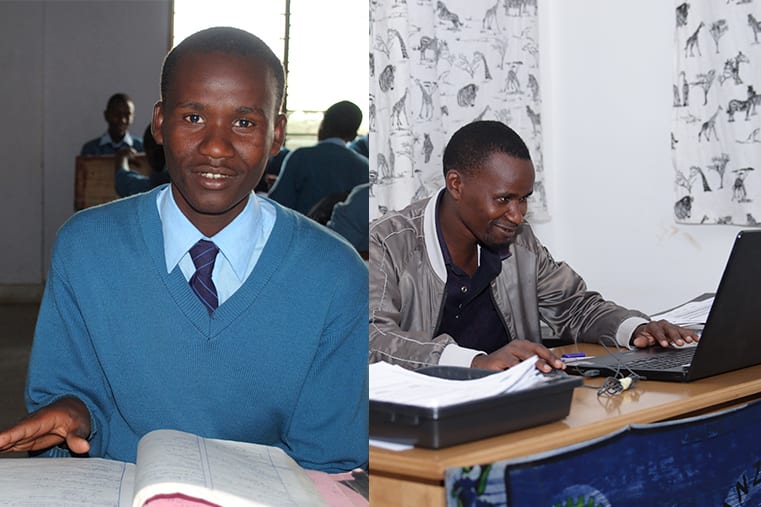 Daudi joined St Jude's in 2004 when he was in Standard 2. Throughout his school life, he showed a natural aptitude for leadership.
"I've always liked taking up leadership roles since I was young. I was Head Boy in Standard 6, Minister for Social Welfare in Form 2 and Minister for Environment in Form 5, so I always loved to lead," Daudi says with a smile.
Leadership is a prominent skill that St Jude's promotes amongst its students – nurturing the community-focused leaders of tomorrow.
"During my Community Service Year (CSY), I taught commerce and booking to more than 133 students in one class and I had to teach three streams. Before I completed my CSY, I established a leadership club at the government school; the club is still active, and in my spare time I pass by to check on its progress," Daudi explains.
He adds, "After I completed my tertiary education in Uganda through Beyond St Jude's, I wanted to come back and help. When the HR manager called me and said there's a lot to assist with here at St Jude's, I didn't hesitate! I quickly applied for the position and I got the job."
Daudi's childhood began living in a two-room, mud home in a rural village on the outskirts of Arusha. He believes if it weren't for his St Jude's education, he would not have had the chance to reach his full potential.
"St Jude's is a life-transforming place. Personally, if it wasn't for a free, quality education it would've been a far-fetched dream to get my bachelor's degree in Uganda. Because of St Jude's, I haven't had to struggle financially for my education like many of my peers. I'm forever grateful to be part of the St Jude's family," Daudi attests.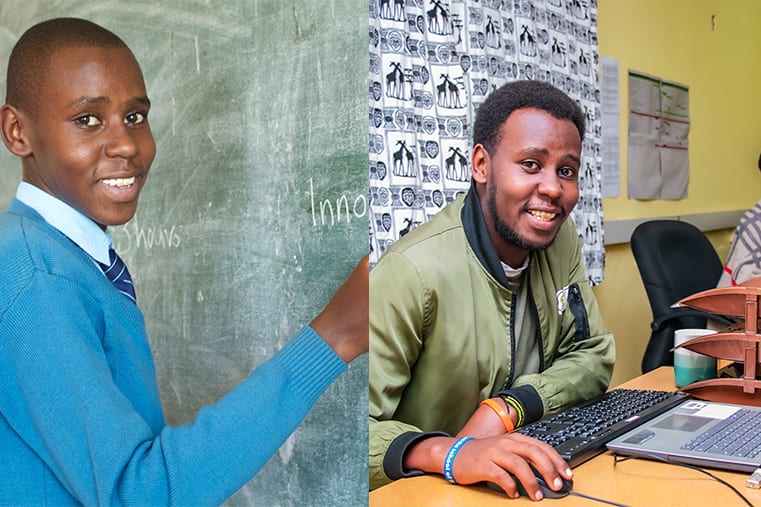 Innocent D joined St Jude's in 2004 when he was in Standard 1 and completed his final year of secondary school, Form 6, in 2017.
"My St Jude's experience was amazing because I received everything at school. My only duty was to study. This also helped lift a huge load off my father, and he was able to educate the rest of my siblings," says Innocent D.
Innocent D graduated from university in 2020, and he's currently working the Beyond St Jude's team (BSJ); the team who supported him through his higher education. Now, he follows up on the academic progress and social wellbeing of the 292 current tertiary scholars studying in 42 institutions across Tanzania.
"I'm glad to be back. This is my chance to give back and appreciate what the sponsors and donors did for me – helping me get free, quality education from primary through to my higher education. It is my way of thanking everyone for supporting me," Innocent D explains.
Innocent D, who is no stranger to the BSJ team says, "For my Community Service Year (CSY), I first volunteered at a government school, where I taught history to more than 60 students in one class. Afterwards, I volunteered in the BSJ team for six months. This allowed me to gain experience in both a teaching and office environment."
"I applied for the job after receiving an email from the Alumni team informing me that BSJ was looking for a candidate. It's great to have this chance to help my younger brothers and sisters."
"Thanks to this job, I am now able to provide for my family and help my father educate two of my siblings who are still in school," Innocent D adds.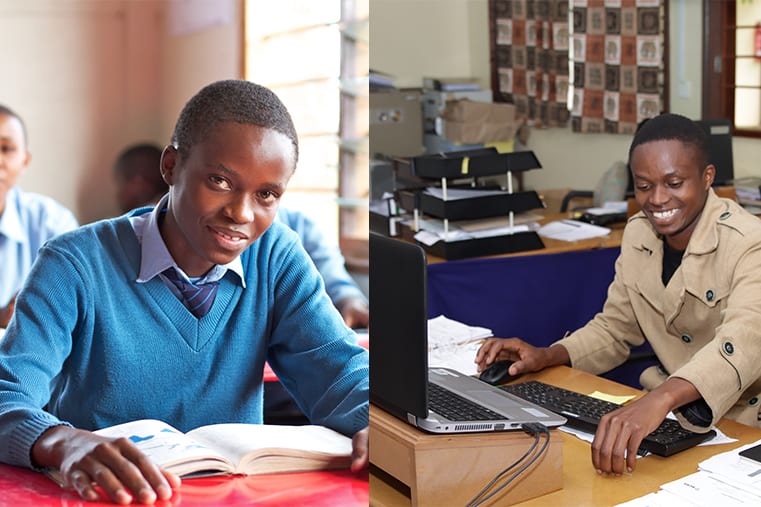 "I remember reading a book called 'Peter and Jane' for my entrance exam on St Jude's Selection Day," says Innocent M with a smile.
Innocent M joined St Jude's in 2004 as a Standard 2 student. After completing Form 6, he went on to pursue higher education in commerce and accounting through Beyond St Jude's. Now, he's back working in the Accounts team, receiving generous donations and sponsorships from supporters all of over the world.
"When the position became open in finance, I was volunteering at Smith Campus as a teacher while I waited to officially graduate from the university. I immediately applied, went for the interview and, I got in! I was so happy!" Innocent M recalls.
"Most of my friends either ended their education in Form 4 or opted to do something else… and that could've easily been me if it wasn't for St Jude's. Now, I'm working here and I'm receiving a salary, my life and my family's life has changed."
Daudi, Innocent D and Innocent M are just a few alumni whose lives have been transformed… a true testament to breaking the cycle of poverty through education!
With your support, we can continue to change the story for thousands of students and higher education graduates, creating a pathway out of poverty for the youth of Tanzania.
Replies