We've been emailing with St Jude's new School Director, Jon Ford, to give our supporters, staff and students a better picture of who will be the school's next leader. Read our Q&A to see what Jon is all about!
The School of St Jude: Karibu to The School of St Jude, Jon! We're thrilled you'll be joining us in our fight against poverty through education. Can you tell us a little bit about yourself so our supporters get a sense of who you are?
Jon Ford: Asante. I am 52 years old and married to Sandra for more than 30 years; she is also a teacher but we met at Southampton University in 1978. Sandra and I are excited about joining the team at St Jude's. When we heard of the school and its mission we immediately felt to apply to become a part of it – we want to help make a difference to the lives of the children and to Tanzania.
We have two children, Rachel and Andrew. My Christian faith is important to me and we have been part of St Andrew's Church in Crawley, West Sussex for more than 20 years. Professionally, I started teaching in 1981 in the East End of London and I am now in my third school, Imberhorne School in West Sussex, England, which I joined in 1996 as Head of Science. I was promoted to Deputy Head in 2001 and have been the Headteacher since November 2003.
SOSJ: You've been an educator in England for more than 30 years – how do you think your experience will prepare you for St Jude's?
JF: St Jude's has developed rapidly over the last 11 years and has a large number of students over the three campuses. At Imberhorne we have two campuses and a similar number of students.
As the Headteacher my priority has always been to maximize the learning of the students and provide the best educational experience possible for the students so that each of them can fulfill their potential. At the same time I have gained a lot of experience of managing what is inevitably a complex organisation with all the practical issues associated with buildings, staffing, budgets, kitchens and personnel issues. All of this experience will be invaluable but there will be many new challenges working within the Tanzanian national curriculum and culture, which I think I will have a lot to learn from the three campus Headmasters of St Jude's, and it will only be by working together that we will help lead the school through its next phase of development.
SOSJ: St Jude's very first Form 5 class began their A Level studies this year and in 2015 will become our first graduating class from secondary. Your school recently had the largest number of A Level students in its history – what lessons can you draw upon so our students make the most of their A Level experience?
JF: The key difference for students as they start A Levels is the need for them to develop their independent learning skills. At 'O' level (GCSE in England) students have lessons throughout the day and no private study time and teachers largely direct the learning. The very best A Level teaching encourages students to think for themselves and involves much more discussion and debate.
A Level students need to learn how to manage their private study time and develop and balance their other interests. Form 6 students can learn an enormous amount through helping younger students and contributing to their community and through other enrichment activities. However, we must remember that the core purpose of Form 6 is the educational outcomes so that the students can go on to University to complete their studies. Based on my experience visiting and working with students at Minaki High School near Dar es Salaam, Tanzania, I think the challenges for Form 6 are very similar for students at St Jude's and at Imberhorne.
SOSJ: Your school fundraised for a new sports hall in 2012 and you did your part by climbing a mountain. Because St Jude's is a charity-funded school, what will your approach be in maintaining the school's successful fundraising record?
JF: As Imberhorne is a fully funded state school, my task as far as marketing has mostly been about explaining our vision and ethos to parents who are choosing which school to send their children to. The School of St Jude is therefore very different as far as funding is concerned where every penny spent has been donated by one of the schools generous sponsors or donors.
When I persuaded the School Governors that we must have a sports hall for our students at Imberhorne, it was clear that there was no money available to fund what I estimated would cost £2 million so we started a fundraising campaign.
My two Deputy Heads and I decided to simultaneously climb the three highest peaks in England, Scotland and Wales (Scafell Pike, Ben Nevis and Snowdon respectively) in July 2011 when we expected it to be warm and sunny, British summer's day. We raised £11,000 through this and attracted a good deal of publicity. We were able to attract the funding we needed and the sports hall is due to open at the end of May 2013. We really enjoyed the challenge and although Mt Kilimanjaro is about 4 times higher, Sandra and I would love to have a go when we are settled in Arusha.
My initial approach to the marketing challenge will be to learn a lot more about it from the experts we have in the volunteer team and follow their advice. I will also listen to Gemma and Kim and try to learn from those who have been there and done it. The mission of St Jude's is compelling and if we continue to tell the story I believe that people will be generous and ensure all of our students continue to get the great education they receive at St Jude's.
SOSJ: What are your hobbies and what do you like to do on your spare time?
JF: I have a particular love of sport – football (soccer) and golf are my top two but I am interested in most sports. Andrew and I have season tickets for Chelsea for the past 12 years. I have been organising a regular Saturday morning group of golfers since 1992 and also a summer tour which I have arranged since 1996. I enjoy time with the family, reading fiction, especially science fiction, which probably comes from my fascination for Physics which is my degree subject and also my main teaching subject. Sandra and I have also been part of a pub quiz team for the last three years.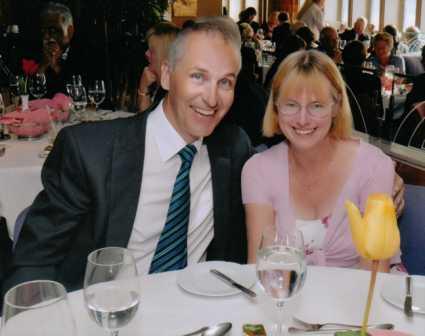 SOSJ: You've been to Tanzania before to work with a secondary school. Tell us about that experience and what did you learn from it?
JF: Minaki High School is a selective school for Form 5 and 6 students who achieved Division 1 in Form 4, and Imberhorne has developed an exchange programme with Minaki. Each October, 12 Imberhorne Form 6 students and two teachers travel to Dar es Salaam for two weeks. They live in the homes of the teachers, attend lessons in the school and get involved with a range of other activities including working with an orphanage in Kisarawe, the nearby town. They work with a group of partner Minaki students.
The following March, 5 months later, the partner group come to visit Imberhorne which is paid for by the fundraising activities of the Imberhorne students. They stay with the students' families and follow a similar programme of lessons and other activities and trips.
I went to Minaki in 2007 and 2010 as part of this exchange and every year since 2005 I have hosted a Tanzanian teacher in my home. These experiences have given me some insights into Tanzanian culture and the education system. I have seen from this that young people from very different cultures and backgrounds nevertheless have a great deal in common. I have seen the value and importance of education to young, bright Tanzanian students. It has made me want to do more so that the young people of Tanzania get the opportunity to receive a top quality education.
SOSJ: What do you expect from the new culture, people and lifestyle? St Jude's welcomes visitors and volunteers from around the world – have you much experience travelling and interacting with different cultures?
JF: Tanzania has always seemed to be a welcoming and friendly place. I hope to make new friends and experience some of the richness of the African culture. I have started to learn Swahili and hope to become reasonably proficient while I am in Tanzania. "Mimi niinasema Kiswahili kidogo". I have travelled to a number of countries as part of my work including Russia with the British Council and Sweden with a different exchange programme. I have also travelled to North America and extensively around Europe in vacations.
SOSJ: What has your family said about your decision to join St Jude's and live in Tanzania?
JF: Rachel and Andrew have been very supportive of our decision and hope to visit us at St Jude's. They are aware of our interest in Africa (although Sandra has worked in Uganda, she has not been to Tanzania yet).
SOSJ: What do you think you'll miss most about home?
JF: It is people we will miss the most, especially my family, but the wonders of Skype will help us keep in contact and the family will be able to visit. I will miss going to Chelsea games with Andrew as this is something we have done as he has grown up. I will also miss playing golf with a great group of friends each Saturday – this has been a great way to unwind and get some exercise. I hope to be able to play some golf in Arusha as there are one or two courses around and I will look into that when we are settled.
I will miss Imberhorne School enormously – it has been such a big part of my life since 1996 and especially the last ten years since I've been the Headteacher. There are so many special people there that I have shared highs and lows with. l will miss them a great deal and I wish the school, staff and students every success under its new leadership.
One thing I don't think I'll miss is the unpredictable, cold, rainy British weather.
SOSJ: Anything you want to add?
JF: I feel humbled by the faith the St Jude's Ltd Board has shown in me and privileged to be given the opportunity to help lead this amazing school. We are both looking forward to what will be for us an adventure and a big change. We just hope we will be able to make a difference for some children and young people in Arusha and we can make a useful contribution to the next chapter of the amazing story of The School of St Jude.
Replies