In a country where a stable source of electricity is no guarantee, it should come as no surprise that the Internet infrastructure in Tanzania is behind most of the world. Internet connectivity in Tanzania has come a long way in the last decade, with both mobile and hard line access expanding exponentially across the country, but the rollout has been slow and the coverage within major cities is limited.
The Internet is cripplingly expensive for most businesses, let alone individuals, as monthly charges for a broadband connection can run into the thousands of US dollars. This not only means that the country is falling behind in the technical revolution, but the education system within the country suffers as well. Primary and secondary students in government schools would be lucky to have stable access to electricity and working computers, let alone the Internet.
It is within this challenging context that we here at The School of St Jude are attempting to provide our students with an education to prepare them for a digital future. It is an ongoing challenge, trying to balance the students' need for high quality ICT facilities while ensuring our donors and sponsors with the absolute best use of their money.
For many years the school has relied on an expensive, slow and unreliable 'Radio' connection to receive their Internet. With recent upgrades in Arusha and a reduction in pricing across the country, we are now able to take advantage of the new fibre optic lines, which have recently been connected across the city.
As many of you will know, fibre optics are the latest in Internet connectivity infrastructure and provide fast, stable and consistent Internet on demand. A more reliable and fast Internet opens up a whole world of possibilities to the students that simply weren't available previously. These include online learning, video presentations, interactive collaboration and an infinite number of ways which we can incorporate the World Wide Web into the classroom.
Large projects like this require extensive planning which we have had in motion for almost a year. There are contracts and lawyers and engineers and endless layers of sales people to wade through before the project can begin. The most important step, naturally, was haggling over price. All prices are negotiable in Tanzania, after all! Following a significant amount of wheeling and dealing, we managed to save the school thousands of donated dollars, and look forward to providing everyone at the school, fast and efficient internet access.
After much planning, testing and installation, St Jude's has now upgraded the Internet connection on both campuses to a fibre optic connection. This connection will bring the school into the 21st Century and will support the development of our students, by assisting them in becoming technologically aware and preparing them for an interconnected, digital world.
Interested in joining our volunteering team as an IT Manager? Check out our jobs page http://www.schoolofstjude.org/join-us/employment.html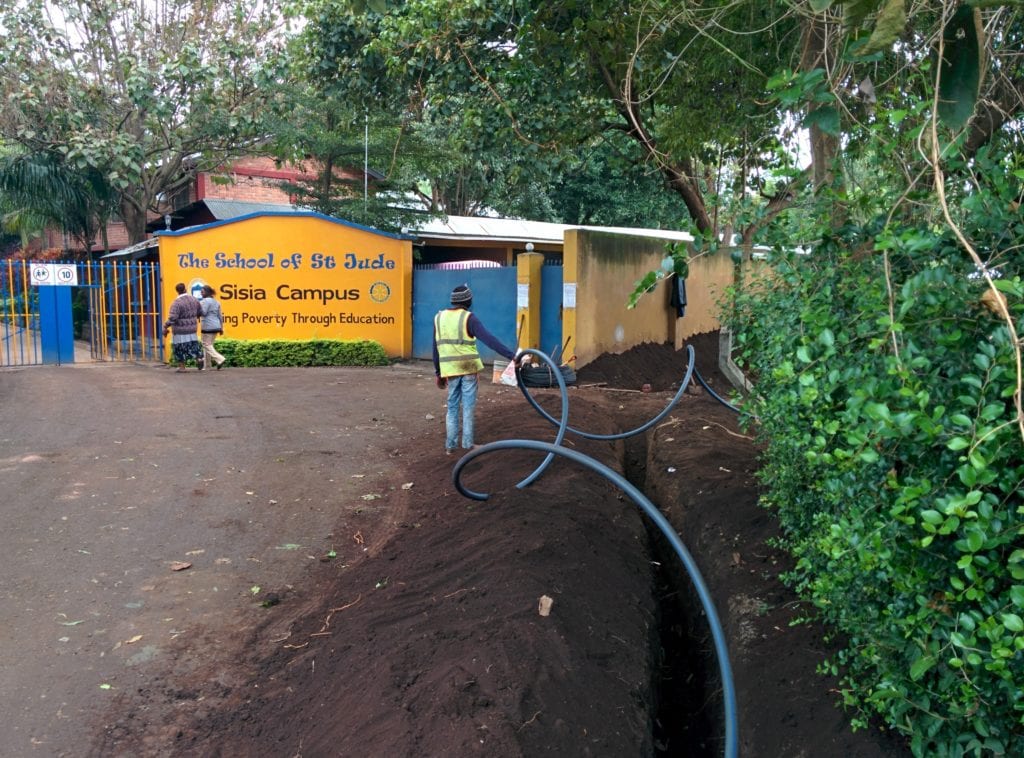 Replies