Our EarlyAct and Interact clubs are now official members of the international Rotary family!
Their initial hard work was officially recognised with a celebratory event filled with fanfare, songs and inspirational words late last year. This "Installation" event featured guests from Rotary groups in the Netherlands and Belgium, and those clubs closer to home welcomed them with open arms.
"To the students of St Jude's, I recommend you to ask us, as your local Usa Rotary Club, if you need help with your community projects as we will be there to help you," Usa River Rotary President Rebecca Saunder said.
Rebecca spoke about the benefits of the global Rotary family and, along with our school founder Gemma and fellow local Rotary district assistant governor Anna Rweyemamu, gave certificates to each of the EarlyAct and Interact students.
EarlyAct and Interact are Rotary-associated clubs that help teach the important Rotary message of service above self. EarlyAct is designed for students between five and 13, while Interact is for our students aged between 12 and 18.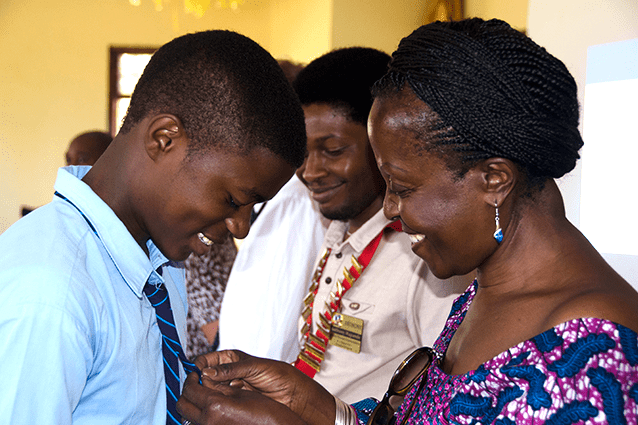 Each elated EarlyAct and Rotaract student received a certificate, handshake and praise for their hard work to set up the clubs and become officially installed. Gemma was clearly impressed by their achievement.
"All of our students involved in Rotary really put St Jude's values into practice, they represent the school wherever they go," she said.
Our EarlyAct students value their newly-recognised club, as they spoke of what they would like to achieve with Rotary over this school year.
"I want to have more kindness in our community," Anthia in Grade 3 said.
"I need a clean environment and more children to play with," Noreen in Grade 6 said.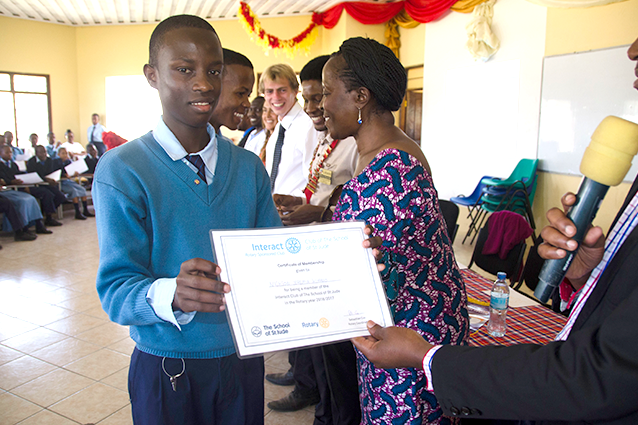 As an Interact member, Eric in Form 2 has really taken the club to heart.
"I wanted to join our Interact club to have the opportunity to help people around the world and to build friendships among those living around me," he said.
"I heard about Rotary from the community work they do. Rotary came to my aunt's village for a project that helps preserve the rain, so I decided to join Interact and help too."
Rotary is strong at St Jude with over 70 members across both groups and room to grow. Keep an eye out to see what they achieve next!
We're proud that our Interact and EarlyAct clubs are now officially part of the global Rotary family. You can help spread the word of our school, and how it has thrived thanks to our Rotary relationship, by downloading a presentation pack here.
Replies