19-Nov-2014 As many of you will have heard, the Ebola virus has claimed more than 4,000 lives during the current epidemic in West Africa.
According to the World Health Organization (WHO), nearly 9,000 people have been infected during the outbreak.
Even though the outbreak has only affected three countries out of 54, Arusha and the whole of Africa has seen a major decline in visitors due to the media coverage and because there isn't a widespread understanding of the size and diversity of Africa.
Some people have contacted us wanting to know if it is safe to travel to Tanzania and The School of St Jude. We want to explain why it is still safe and why visiting us helps us continue fighting poverty through education.
Some important facts about Ebola
While the outbreak is undoubtedly serious, it is important to understand the reality of the situation as far as Tanzania is concerned. There have been no reported cases of Ebola in Tanzania to date or in East Africa (i.e. Kenya, Rwanda, Uganda, Burundi, Tanzania.
In reality, only five countries in Africa have had Ebola cases in the current outbreak. All of them -- Guinea, Liberia, Nigeria, Senegal and Sierra Leone -- are located in the western part of the continent, and Nigeria and Senegal have since been declared Ebola-free by the World Health Organization after going six weeks without any new cases.
Africa is big. Really big. It's much bigger than the United States and China combined. If you look at the below map it will help paint a picture as to how big it is.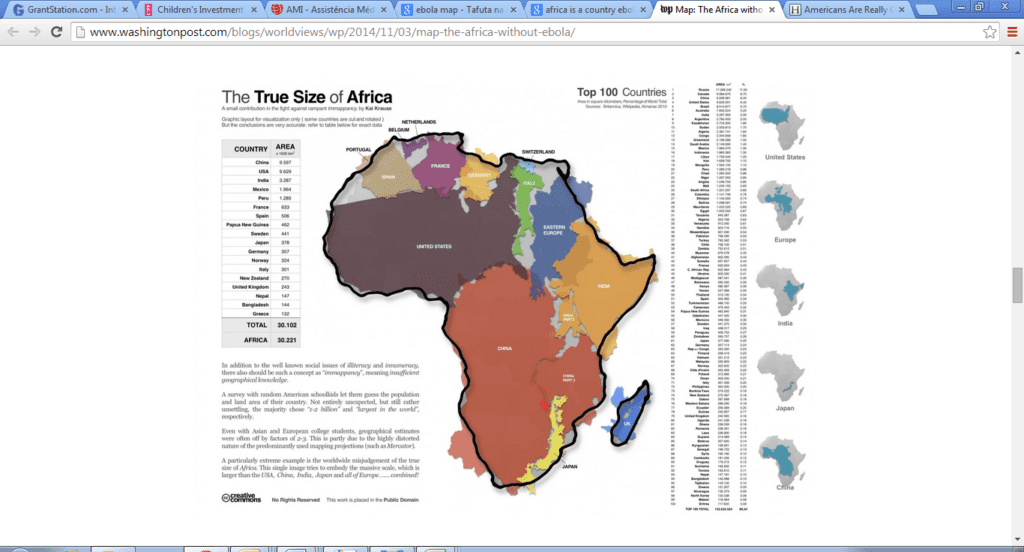 As a continent not so widely understood, it is easy to misunderstand its geography. In terms of geographic distance, however, West Africa is approximately 5,300km from Arusha - to put that in perspective, Brisbane to Perth is approximately 4,000km, and Brisbane to Tanzania is approx. 12,000km. Below is a map showing the distance of the outbreak area to other large nations: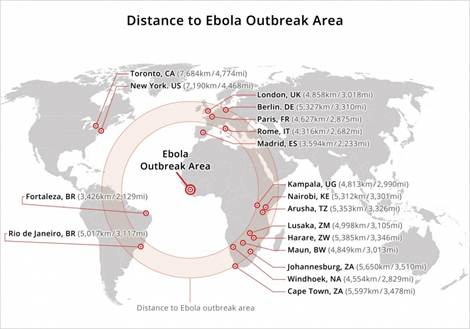 It is also important to appreciate that travel between West Africa and Eastern Africa is generally done in a very limited capacity
Unfortunately, the Ebola outbreak has had a negative impact on many African nations that are free from the disease. Many tourists have been canceling safaris to countries in East and Southern Africa, and academic institutions in the United States have postponed visits. SafariBookings.com surveyed 500 safari tour operators in September and found more than half had experienced drops in bookings ranging from 20% to 70% since the Ebola outbreak. This is despite the fact that the West African suffering from Ebola are closer to European cities like Madrid, Paris and London than they are to safari destinations such as Kenya, Botswana, Zambia, Zimbabwe, Namibia and Tanzania in the continent's south and eastern areas.
There have been many inaccurate claims since the beginning of the Ebola outbreak, with certain news sources stating that Ebola can be spread through the air, water, or food. The truth is that Ebola is a low risk for travelers as it is spread through direct contact with the blood or other body fluids of a sick person. It is not a casual contact-acquired infection. There is no known Ebola transmission through coughing or sneezing as there is with diseases such as common flu.
We understand that many people are worried about Ebola however we want to assure you that Tanzania, and East Africa, continues to be a safe destination to travel to. Your support during this time is greatly appreciated since without visitors, volunteers and word of mouth it is harder for us to find funds to keep fighting poverty through education.
**********
CDC (Centres for Disease Control and Prevention) www.cdc.gov/vhf/ebola/outbreaks/2014-west-africa/qa.html
10 Essential Facts About Ebola www.everydayhealth.com/news/ebola-10-essential-facts-about/
Fear, Misinformation, and Social Media Complicate Ebola Fight
http://time.com/3479254/ebola-social-media/
Map: The Africa without Ebola www.washingtonpost.com/blogs/worldviews/wp/2014/11/03/map-the-africa-without-ebola/
'Epidemic of ignorance': Tourists avoid Africa, all of it  www.usatoday.com/story/news/world/2014/10/31/safari-ebola-africa-geography/17784729/
Replies