St Jude's Sisia primary campus is always a bustling hub of activity and cheer on Friday afternoons.
Weekly assemblies excite the whole school community, providing students with a platform to showcase exceptional academic and creative talents.
An added air of intrigue infused the auditorium when 18-year-old Russell, a Birpai man from New South Wales, took to the stage in front of a crowd of more than 700 at a recent school assembly. 
The deep drone of Russell's didgeridoo cued the tap of clapsticks, played by Fatima in 5C, as she and 27 classmates approached the stage from the back of the auditorium.
It was an apt primer to a performance that won't be soon forgotten.
The captivating demonstration gave the audience an insight into important Indigenous traditions. Pamoja, meaning 'togetherness' in Swahili, inspired the experience of two cultures joining in celebration.
Russell is becoming a seasoned expert at performing for the St Jude's community; he first had the opportunity in April last year, during a visit with his school, St Joseph's College, Hunters Hill.
"I was lucky enough to be selected for the school trip. I remember being told about it by a friend, whose younger brother had visited St Jude's as a Joey's student in 2016."
According to St Joseph's College educator and school trip co-supervisor, Linda Roden, there was no doubt that Russell would prove to be the perfect fit for a visit to St Jude's.
"Russell often guides younger students to strive for better things. He is a special young man who has a positive attitude and makes the most of opportunities presented to him."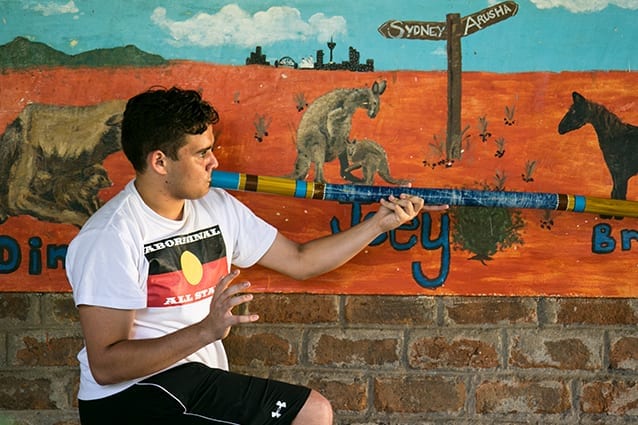 Working in a school, Linda understands that education is vital to ensuring the cycle of poverty is broken, and that young advocates like Russell play a crucial role in supporting St Jude's.
"Schools can fundraise towards sponsoring a student, a teacher or even a bus. Most importantly, students can spread the word. Let people know about the amazing work being done at St Jude's. Every dollar raised for the School is important."
Russell is dedicated to fighting poverty through education and knows a high quality schooling experience can change an individual's life trajectory.
"I wouldn't have had doors opened for me if it weren't for the education I received. The kids at St Jude's enjoy the greatest gift."
"As a representative of a minority group in Australia, I can really identify with the students. Being here has opened my mind to possibilities for the future. I'd love to explore work in the performing arts, but I'm also considering being a primary school teacher."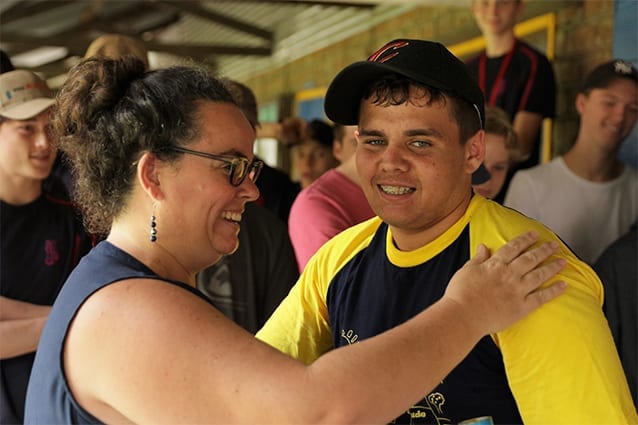 Of all the experiences that touched Russell's life during his first trip to St Jude's, it was a visit to the home of Goodluck in Form 1 which affected him most.
"Seeing where St Jude's students' come from and the conditions some Tanzanians are living in is challenging. It gave me perspective. It helped me to appreciate what I've got."
"Gemma Sisia is a shining soul. If she can do what she's done, then we can do so much to help. I take my hat off to her. Telling the story about St Jude's and its beginnings is so important."
"We saw Mount Kilimanjaro as soon as we arrived at the airport in Tanzania, reminding us how far from Australia we'd travelled, but a group of students from Smith secondary campus were there to greet us with a dance. They made us feel welcome. You can't compare this experience to any other."
Are you ready for the experience of a lifetime? Do you have a special talent to show our students at school assembly? Email our friendly Visitor team at Visitor@schoolofstjude.co.tz and book your trip to The School of St Jude! Click here for more information.  
Replies