One of our wonderful supporters Raymond McLaren played a huge part in helping St Jude's get off the ground. Raymond headed out to the school in 2003 and helped the fundis (tradespeople) to install some water tanks to collect drinking water as well as assisting with the guttering at the back of what is now the visitor block.
He's an active Rotarian from Tamworth and has shared some of his best moments from Tanzania in his piece below.
Samwell
My first memory is of meeting Samwell, the Maasai night watchman. Despite meeting in less than perfect circumstances (ie: I yelled at his guard dogs for keeping me awake!), Samwell and I were to become good friends during my stay at St Jude's. I remember helping him to spit roast a goat for a special occasion, and I always admired his ability to stay up all night, with his dogs and his guitar for company, singing tunes through the darkest hours.
Anybody visiting this area will be rewarded by spending some time with the Maasai, and I am very happy to have had someone like Samwell help me learn about this indigenous culture.
Paddy
Gemma's brother Paddy was a tradesman builder, and he had the most amazing "gunbelt" of tools. They were so heavy in his tradesman's belt that he had to lower them straight down to the ground once he undid the belt buckle. To arm himself for the day's work, he had to step into the belt while it was on the ground, and then raise it up to his waist (sometimes needing some help to lift it) and fasten the buckle. He was a great organiser of the work.
I especially remember the building project for the girl's dormitory. The foundation holes seemed to be enormous, and Paddy explained that because the building was to be three stories and the volcanic ground was very soft, it needed concrete pads about 1.5 metre square and 2 metres deep. I can still see the local labourers singing away as they shoveled the dirt out of these deep holes with square nosed shovels.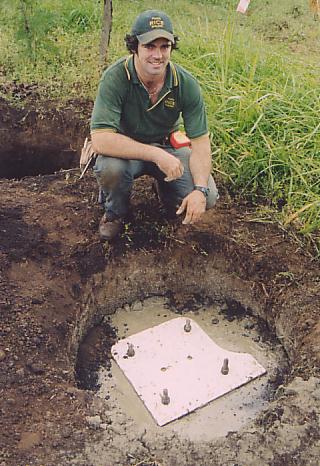 Daniel Sisia
Another fond memory is of meeting Daniel Sisia, father of Richard Sisia and Gemma's father-in-law. I remember him always being well dressed, usually in a jacket, and he always struck me as being a real gentleman, and so very interested in the project. He enabled Gemma to start the school with his gift of the first land. His meeting with the Town Council about the water rights for the school was a classic piece of negotiation, and helped us to guarantee a quality water supply for St Jude's.
Water Tanks
I was not involved with the initial earthworks at St Jude's, but in July 2003, I travelled to Arusha with the purpose of installing some water tanks suitable to collect drinking water, which Gemma saw as a very great need. With the help of the Gemma's band of fundis from nearby Moshono, I was able to install three 5,000 litre tanks, as well as some other tanks with storage of around 30,000 litres. Of course, it was not enough, but it would certainly help Gemma to run the school more easily, and so we had all made a contribution to this great project.
The Rotary Club of Mount Meru was very supportive of my efforts here, welcomed me warmly, and provided some material assistance, as well as encouragement. The Club President, Deepa Hans, and his Secretary Gurmit Bachu, treated me especially well and helped organise a number of functions.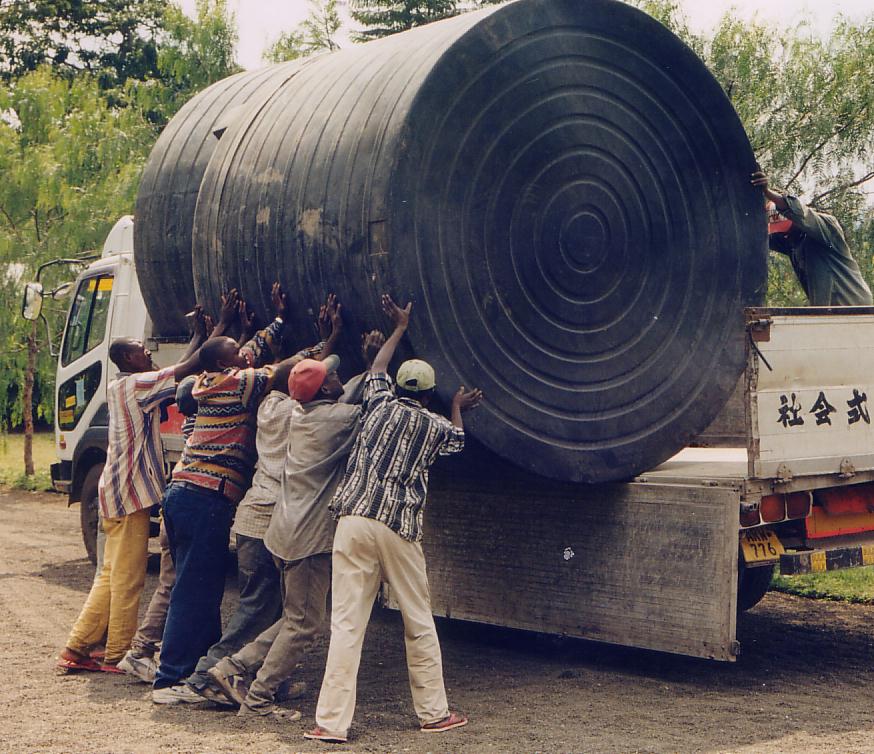 Safari
My safari to Ngorongoro Crater was quite an adventure. Seeing so much wildlife in one place is really something, and the notable thing is the grass growing here is still knee high, despite hundreds of wildebeest, zebras, warthogs and hippos all grazing on it. There were also thousands of pink flamingos on the lakes, and amongst all this lions and other mean predators, like jackals and cheetahs, as well as elephants, crested cranes, giant herons and the awkward looking giraffes. The Crater has to be a must see for any visitors to Arusha.
Khan's
For intending visitors, the Kilimanjaro beer is a great experience, and the place to be seen is Khan's BBQ. By day it is a dirty dusty mechanics workshop, which at night is transformed into an outdoor BBQ.
Flying to Arusha
We were flying though the most beautiful, enchanting bank of clouds - one of the most beautiful displays of natural grandeur that I have ever seen in my long life. More time passed, and before long large rock with some ice sticking to it appeared, just poking out of the clouds about 20 kms to the north off the starboard wing.
"Mount Kilimanjaro," confided one of the regular passengers, "great to see, isn't it?"
Just as the light started to fade into dusk, the plane started to descend, and as darkness approached we landed at Arusha airport.
Gemma
I first met Gemma when she addressed the Rotary Club Tamworth about 1998 or 99. She managed to convince quite a few of the Rotarians to subscribe to her school project, with us each paying $15 a month to her special Commonwealth Bank account. This Rotary Club still supports this project via an annual donation.
Seeing Gemma shopping for the school needs in the local open, dusty industrial markets, haggling over the price of everything from nails to cement to timber planks in her fluent Kiswahili, it was obvious that she commanded a lot of respect. She always got top value for the money that she spent, carefully using the money that people had subscribed to the project. Although many people obviously contributed to creating St Jude's, Gemma is the reason why I got to see the children come rushing in through the gates at 8am, so enthusiastic to be going to school.
Schools like St Jude's are providing a quality education for children who otherwise would not get it. I want to keep on supporting the School of St Jude whenever I can.
Gemma's mission says it all: "Fighting poverty Through Education".
Replies