Since sending out the latest newsletter we are excited to have all four water heaters purchased! This year's Every Piece Counts appeal has gone really well, and we're so grateful for all of you who have stepped up to contribute toward a piece of St Jude's.
Often it is the smallest of ideas which make the biggest difference. Our new water heaters use sump oil to generate energy and heat a thousand litres of water. It is the brainchild of a Tanzanian man who developed the technology to reuse oil from the 22 buses at The School of St Jude. His invention has made the cooks' job a lot easier because it means they won't have to worry about water limitations and will have access to hot water. It is one of the main reasons why the school pushed for a water heater so it could reduce the amount of water used in the kitchen. "We use too much water in the kitchen so we want to try to lower the quantity of water around 50 per cent and it'll mean our water resources will last longer," Acting School Director Shean Gannon says.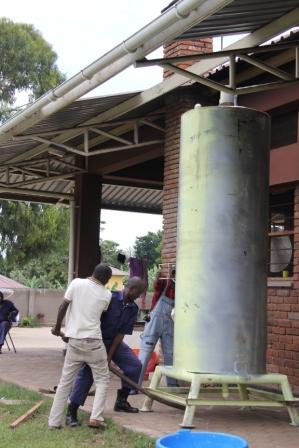 Hot water now flows from the taps in the kitchens, and the cooks will not have to use cold water to scrub and clean plates. It is a big challenge for our cooks to prepare more than 500 hot, nutritious meals for students and staff every day on each campus. They had been accustomed to sitting and washing plates in big plastic buckets. Most do not have access to hot, running water at home so it has been a big adjustment. But having hot water will have obvious hygiene benefits as it will mostly kill germs and bugs.
The water heaters would not have been possible without the help of generous donors who gave $3,000 each so they could be purchased. Eventually, the school hopes to install more water heaters around the school. "One of the problems is getting people to change their habits. They're not used to hot water so it'll take a while. Once we have got them up and running and using it then we will start introducing it to the other kitchens as well," Shean says. This would mean that eventually every kitchen in the upper and primary sections of the school will have hot, running water!
As you can see, the Every Piece Counts appeal is really making a difference. Generous donors have also contributed towards buying play equipment, a school bus, blocks of land and desk and chairs for our students. It is fantastic to see how many people are willing to give and help our children have the best, possible education. "The school is very appreciative of the money that people donate. We live and die by our sponsors and donors, and people that support us. Only through the generosity at the school, can we continue in providing a free education to Tanzanians so we'd like to thank them and assure them that the money we donate is helping the school in achieving its goals," Shean says.
Our next focus is providing more boarding accommodation for our secondary students at the Usa River Campus. We are expecting another 170 students moving from primary next year, so we need to be able to house all those students. You can help too! The school still desperately needs more computers, desk chairs, and food so we can adequately provide for all of our bright young, students.
There are still many items that you can purchase for St Jude's. Which will be your piece in the puzzle? Remember: Every piece counts in the fight against poverty through education.
Replies