Prep student Josh has already gone through a rite of passage for a young child, in only a few short months. Josh earned his boyhood stripes when he broke his arm while falling off play equipment at St Jude's. He has gained the status as the only kid in the playground with a sling and he's enjoying the attention while he can.
Recovery has been quick for Josh, thanks to the caring support of the St Jude's Health and Welfare team. The day a teacher carried him in with his painful, broken arm, the Lower Primary Medical Officer, Brenda was on hand to provide assistance. She carefully placed Josh's arm in a bandage, then notified his parents before taking him to the hospital in one of our school buses.  
The doctor examined him before numerous x-rays were taken on his arm. Brenda was by his side the entire time, before Josh's mother, Sia arrived at the hospital. The doctor determined that Josh would have to undergo an operation, to insert metal pins into his arm to realign the bone to its original place.
The costs were slowly adding up for the files, x rays, operation and overnight stay at the hospital. As Josh's mother, made her way there, it greatly worried her about how she could afford to pay for it all on her small income, which she earned selling mandazi (a form of East African fried bread) and tea, on the side of the road.
She works hard to take care of her husband, daughter, Josh and also her niece, with all of them living in a small mud home with no electricity. She could barely afford to buy food and essentials for her family, and could not imagine how she would pay for the hospital bills.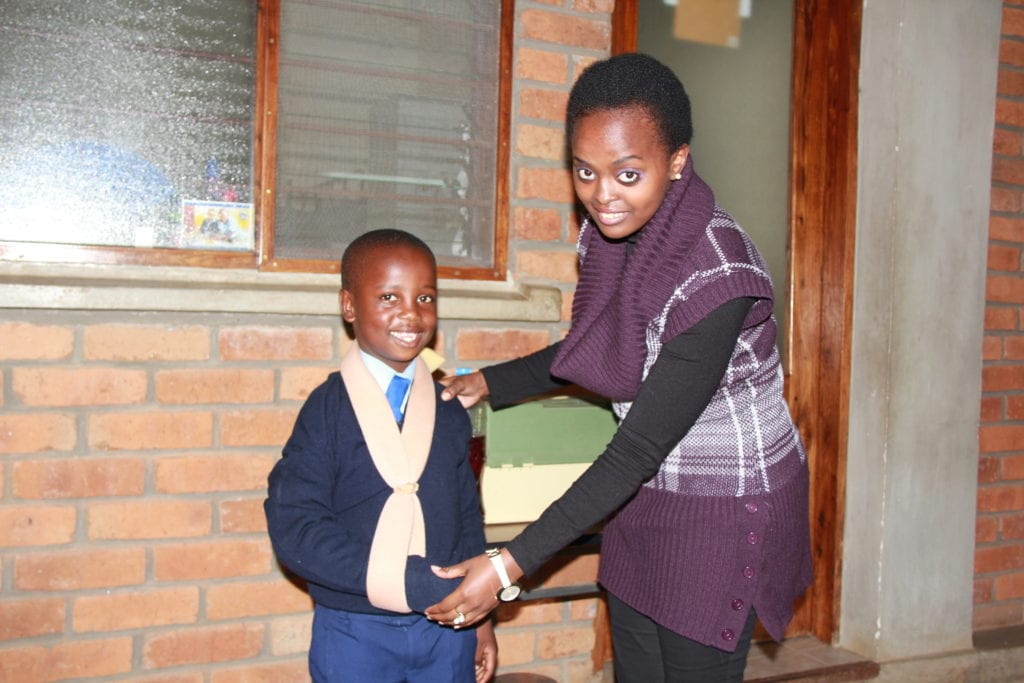 Access to quality health care, like education for many Tanzanians, is a privilege that most can't afford. Additionally, neither area is adequately funded by the Tanzanian government, as they are in many developed countries.
The St Jude's Health and Welfare fund covers all medical emergencies for our students for injuries that happen whilst the student is at school. When an accident occurs, the school's Health and Welfare team acts instantly by assessing the child and taking them to the hospital or they decide on the next best course of action.
If St Jude's hadn't have helped Josh and his family, they would have had to go to the hospital by themselves and put on a long waiting list. There is a severe shortage of doctors and specialists in Tanzania so there is a high chance that Josh may not have received proper treatment as local hospitals have a huge backlog of patients to deal with on a daily basis. He would likely have had to miss school because of the ongoing pain in his arm and the long wait at the hospital.
However, by St Jude's looking after Josh and his medical bills, it meant he got immediate treatment and our Health and Welfare staff were on hand to check that he was being well looked after. 
Josh's family is very grateful that St Jude's paid for all of his medical expenses as it would have been out of the reach for the family to afford. "It makes me happy and a big thanks to St Jude's, which paid for everything," said his mother, Sia.
"I believe Josh will be the one to change the life of our family because of his education at St Jude's and help us out of poverty. I'm so happy that he is getting a good education at the school."
Back at home, Josh is like any other little boy who loves his Mum's cooking, playing with his friends in the neighbourhood and catching up with his mates at St Jude's.
Since his accident, he has taught himself how to write with his other hand so he wouldn't miss out on any of his lessons. Josh likes reading and learning English and has hopes of someday becoming an engineer so that he can help his Mama.
"I like reading and being careful to listen to my teachers when they're teaching," said Josh. Recently, he has headed back to the hospital so a doctor can remove his sling and metal pins in his arm. Little Josh couldn't wait and hopes it's the last visit to the doctor and hospital for a while. 
If you'd like to consider becoming a sponsor or making a general donation to St Jude's to help us fight poverty through education, you can find more details on our website http://www.schoolofstjude.org/support-us/sponsor.html.
Replies