Four of The School of St Jude's most dedicated community service graduates are enjoying the trip of a lifetime, thanks to school ambassador and Hollywood star Rebel Wilson.
The Australian-born actress has shown her generosity by paying to bring four of the Tanzanian school's highest achievers to America, where she treated them to a cultural tour which included a VIP visit to Disneyland, a live baseball game, tickets to her Hollywood Bowl performance and much more.
Rahel, Anna, Joseph and Enock come from impoverished families and earned scholarships to receive a free, high-quality education at The School of St Jude.
The quartet is part of an extraordinary inaugural graduating class that showed its gratitude by volunteering in local communities through the Beyond St Jude's Community Service Program, which has reached more than 10,000 students in under-resourced government schools.
Rebel, who is St Jude's official ambassador and a long-time student sponsor, said a trip to "the happiest place on earth" was a perfect way to reward these generous young graduates.
"When I was younger my grandmother brought me to California and apart from being amazingly fun, it opened my imagination as to what was possible in my life," Rebel said of their adventure.
"Not only have these students shone academically but they have also completed a whole year of community service, teaching children in their respective villages.
"This is a fun, cultural trip that I personally wanted to provide to these talented students before they start university later this year."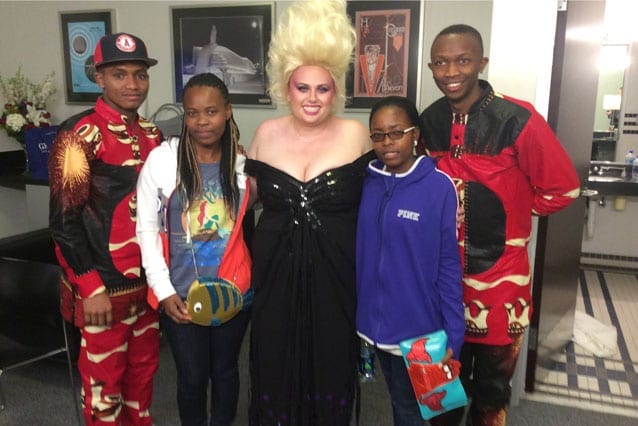 Rebel also paid to bring Beyond St Jude's Manager Angela Bailey, who said the hardest part was selecting just four students of the 50 who participated in the Community Service Program.
"The 50 St Jude's graduates who volunteered to share their high-quality education through a year of community service before going on to university have all made such a valuable impact," Angela said.
"Many have gone above and beyond our expectations, so it was very difficult to only choose four who could be thanked in this very special way. Joseph, Anna, Enock and Rahel have had such a wonderful time seeing Los Angeles with someone who has supported our school for so many years, especially someone who has inspired by achieving her own dreams."
Rebel said their adventure was "everything I had hoped for," especially the VIP tours of Disneyland and California Adventure Park generously donated by Disney.
Replies