Louise Scott has been to many parts of the world, but there haven't been many as memorable as The School of St Jude in Tanzania.
Her latest travels brought her from Australia, to Wimbledon and onto Africa with her partner George Spring and his daughter Isabella, and the group could not contain their surprise at what they found inside the school gates.
St Jude's opened in 2002 with one volunteer teacher and three students. It now provides a free, high-quality education to almost 2000 of the region's poorest yet brightest students, and this year celebrated its first graduating Form 6 class.
Visitors like Ms Scott, who hails from Bournemouth but has lived in Australia for the past seven years, can enjoy various activities and even stay overnight.
"From the minute we got on the bus to the moment we got off, (the students) sung songs to us the whole way," she said.
"They were so happy, and singing about, you know, how they wanted to be a pilot through education, or a teacher through education, or a doctor through education.
"You look at kids in the Western world today, and then you see these kids who are happy, enthusiastic, and have amazing attitudes, and then you watch where they get off the bus… It's confronting, and makes you realize how totally life-changing St Jude's is to these kids. They have nothing, absolutely nothing, and they can come here and they're going to get an education when they never would have had that opportunity in a million years otherwise, so it's really great."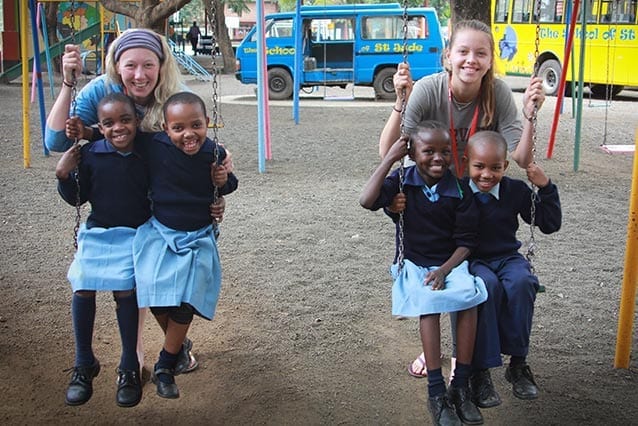 After climbing Mount Kilimanjaro, Louise and her group spent two nights at St Jude's before she headed to a nearby town to volunteer at a farm. Louise said the school visit was particularly special as they had a chance to meet the student George's parents sponsor.
"It was lovely to meet the kids, they were gorgeous. I don't know if (George's parents) will ever make it over to Tanzania, but for them just to know how their student is going will mean a lot," she said with a smile.Ms Scott said visiting a developing country was particularly reassuring as they could see for themselves where donations were going.
"The wonderful thing about St Jude's, from our perspective, is that you know your money is going to the children," she said.
"You can come and see that this money's going to the children.
"From the fact that they get fed three meals a day, which they probably wouldn't get at home, they get an education and the teachers genuinely, really care about what they do. If you want to do something to put money into charity, doing it here means you know it is going to something that's going to make a difference."
Find out more about visiting our school. Review us on tripdvisor if you stayed overnight or visited our campus on a day trip. 
Replies